Best Kitchen Knife Buying Guide
Jul 31,2022 | Fzkaly
The main criteria for measuring a kitchen knife are sharpness and toughness, and the material of the kitchen knife and the content of different ingredients will affect the knife's performance.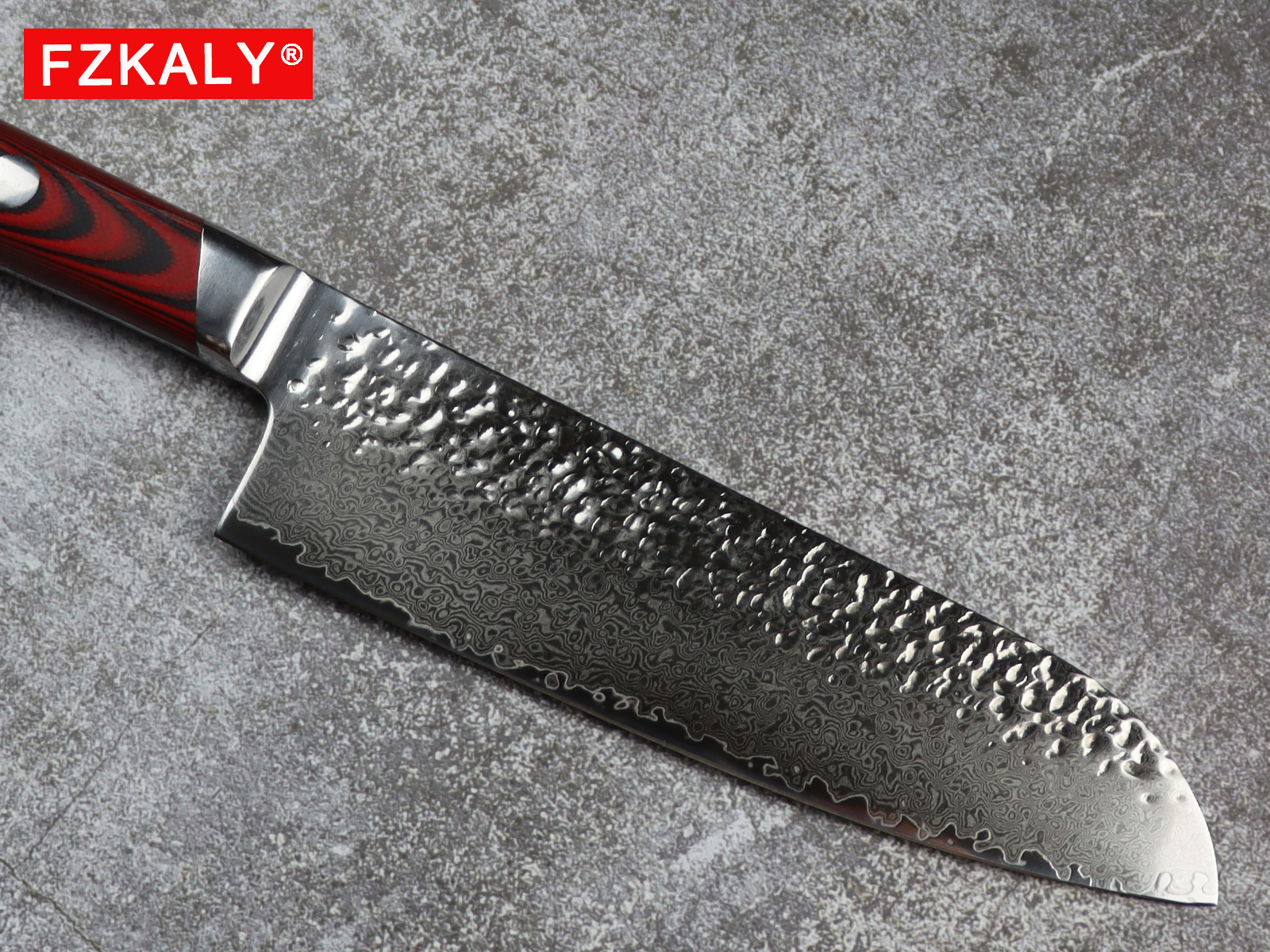 1. Sharpness and toughness
Sharpness: One of the important indicators of whether a kitchen knife is good or bad. It is mainly measured by HRC(Rockwell hardness). A good kitchen knife usually has a hardness of 56+. Kitchen knives with high sharpness are generally above 60 HRC. However, the hardness of kitchen knives is too high, which will cause the toughness to decrease, and it is easy to cause cracks when used.
Toughness: The ability of kitchen knives to resist fracture is also one of the most important indicators. Knives with poor toughness are like glass; the harder they are, the more fragile they are.
2. Material selection
Stainless steel: The carbon content is uncertain, the chromium content is more than 13%, the toughness is good, and it is not easy to rust. Stainless steel makes excellent knives that are durable and can get very sharp.
Triple steel: Two pieces of stainless steel on the outer layer, and a layer of high-hardness high-carbon steel in the middle. It has good toughness and high sharpness.
Damascus steel: Extremely sharp. It can make beautiful patterns on the outer layer of the finished knife metal.
Next, let us continue to subdivide these steel materials.
Clad steel
It is to first use relatively soft steel (low-carbon steel or wrought iron) to forge the basic shape of the knife, then use a thin piece of high-carbon steel to wrap one side of the knife, and finally forge it into a blade. In this way, the blade part can be hard and sharp enough, and the blade part will not break easily because it is too hard.
Clamp steel
Clamp steel is the opposite of clad steel. It is made of harder steel and soft steel is sandwiched on both sides. The soft steel on both sides is elastic enough to wrap the high-carbon steel inside, so that the steel in the middle will not break even if it is bent.
Clamp steel can make a double-edged sword, and there is no need to be very careful in polishing, and the strength of the main structure is even higher.
The disadvantage is that clamp steel is more expensive in comparison, and clamp steel consumes more high-carbon steel than clad steel, so the cost is relatively high.
Inlaid steel
It is to cut a small hole in the soft steel where the blade needs to be made, and then insert a piece of high-carbon steel into it. Compared with the first two forms, inlaid steel can be made with double-edged blades at will, and there is no worry about being resistant to polishing. At the same time, it is more material-saving, and the process is simple and easy to mass produce. Its high-cost performance made this technology not only used in swords in ancient times, but also in kitchen knives, scissors, axes, etc., all used this technology for production.
Folding forging
The different soft and hard steels are stacked together, and then repeatedly folded and forged, so that the sword created in this way will form a pattern of soft and hard supporting each other inside. When the harder steel cracks, the softer steel can prevent the cracks from continuing to crack, while the harder steel can continue to support the overall structure.
The overall performance of the knives made in this way is much more stable than that of the sword made of inlaid steel, clip steel, and clad steel. At the same time, due to the different glosses of high-hardness and low-hardness steel, the knives will also show a charming and smooth pattern. The Damascus knife, the top of the world's three famous blades, are made on this principle.
6 Best Kitchen Knife Recommend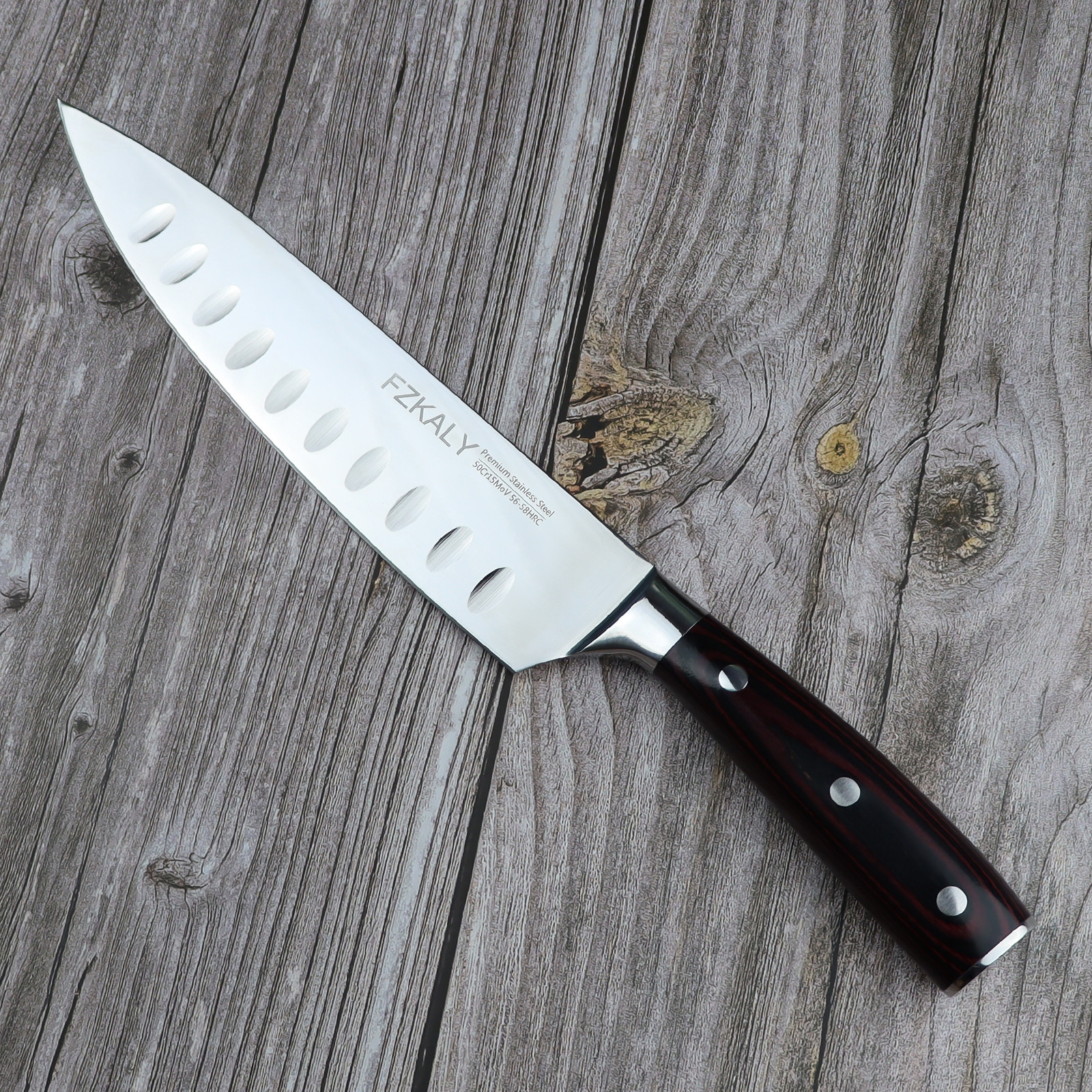 This classic 8" chef's knife is the essential workhorse for any chef who takes his craft seriously. Made from premium German X50CrMov15 stainless steel. X50CrMoV15 is German high and mid-grade martensitic stainless steel, mainly used for high-quality chef knives. The X50CrMoV15 steel contains 0.55 carbon making it two times as hard as other knives in its class. 15% of Chromium offers better strength and edge retention. You can enjoy delicately slicing and chopping vegetables, and carving meat.
Unlike other brands of chef's knives, this classic chef's knife uses a hollow edge design, the hollow edge is crafted with evenly spaced vertical indentations, which create small air pockets between the blade and the food. These small air pockets gently push food off the blade and minimize friction and create paper-thin slices.
If you're looking for a mid-range chef's knife, I highly recommend this chef's knife and value for money.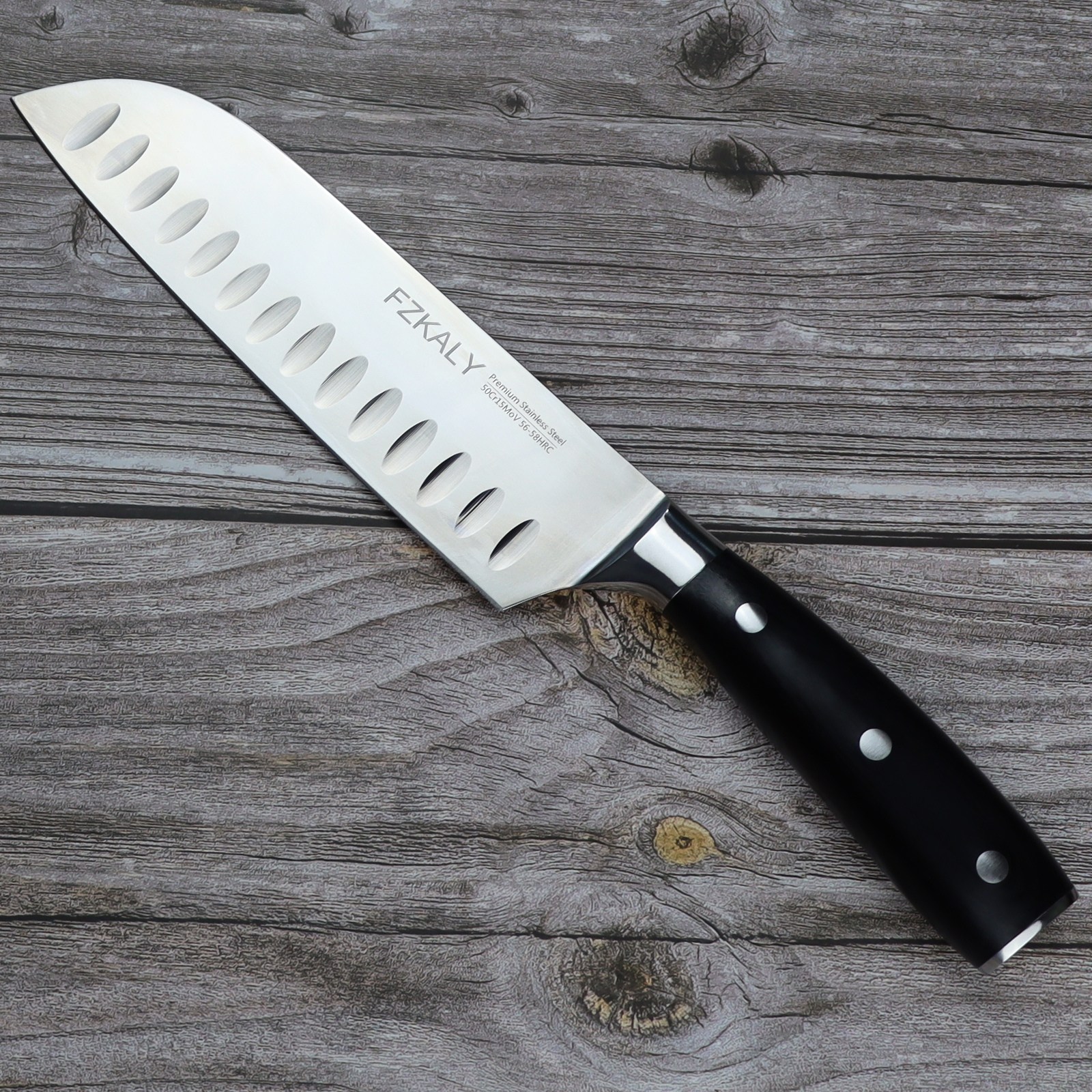 This classic 7" Santoku knife features a distinctive rounded-down tip and flatter blade edge that makes it a great chopping knife. Like the classic chef's knife, it uses a hollow edge design, pushes food off the blade and minimizes friction.
This classic 7" santoku knife is hand-polished 14-16 degrees double bevel edge by craftsmen with decades of experience to ensure its durability and sharpness. The full tang Pakka wood handle minimizes wrist strain while providing a secure, comfortable grip. Its more nimble size and feel make it a favorite among cooking beginners or those who prefer chopping or slicing cuts.
This 7" Damascus santoku knife is made of AUS-10V Japanese super steel core that resists rust, corrosion and discoloration. Scalpel-like sharpness at a staggering 12° angle per side and incredible edge retention at 62+ Rockwell. The tapered bolster for improved hardness, flexibility, and minimal slicing resistance.
This 7" Damascus santoku knife handle is made of ergonomic blue Pakka wood, which ensures superior hand control, agility and comfort. Triple-riveted design for even further resilience.
Due to its sharp blade and premium steel materials, this 7" Damascus santoku knife can be used for your daily kitchen tasks of chopping, slicing, dicing and mincing of all kinds of, vegetables, meat, and fruits.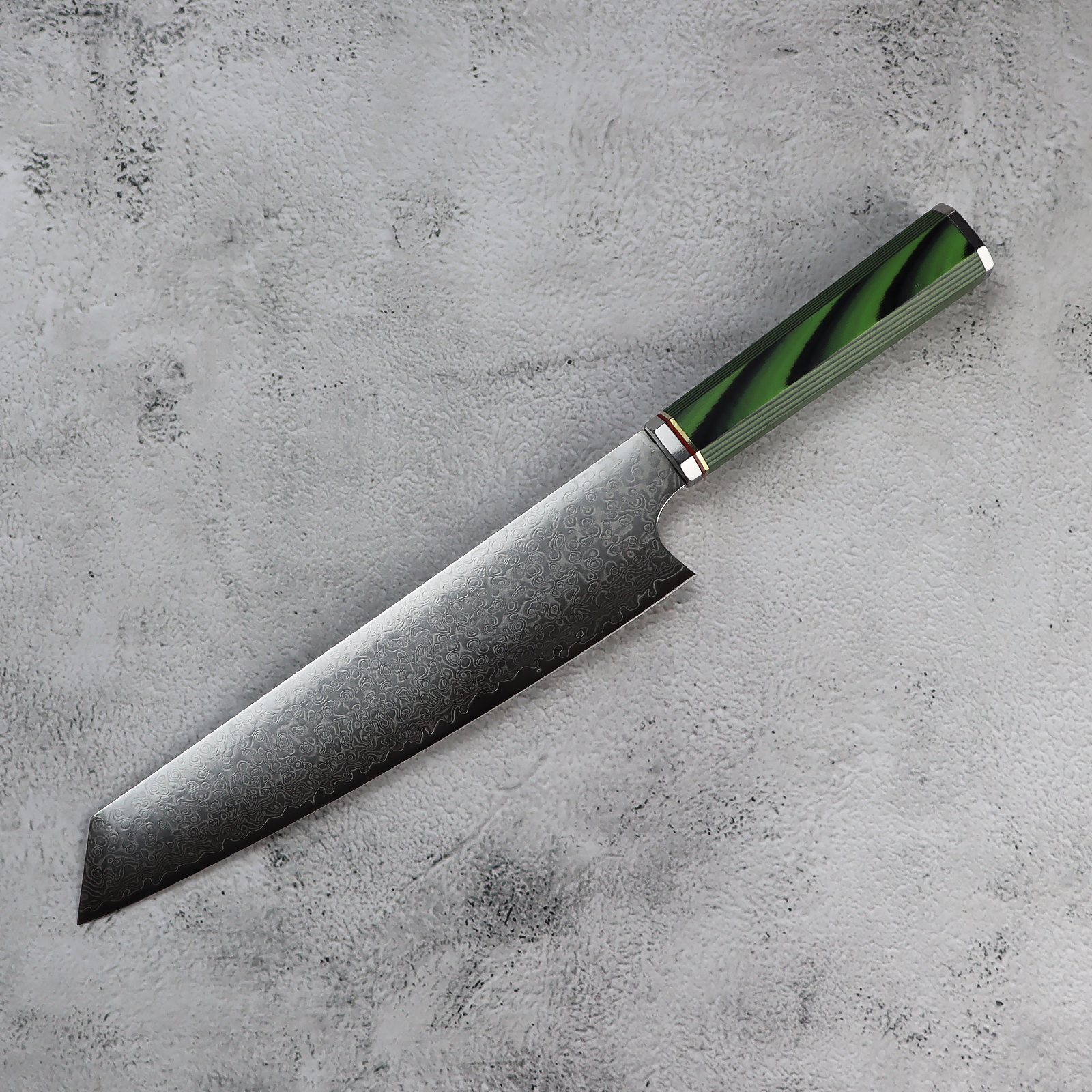 Any professional chef and cooking lover will tell you this 9" chef's knife is a must-have. If you have space to comfortably use a bigger knife and feel comfortable with the size in hand, I would recommend this 9" chef's knife for you.
The knife is precision-forged from a single piece of 66-layered Damascus high-carbon stainless steel cladding, with an ultra-premium Japanese VG10 steel cutting core offering super sharp cutting experience( Rated at 61+ Rockwell Hardness). Cryogenic tempering with liquid nitrogen increases the steel's crystalline structure and forged process, providing long-lasting edge retention. No need to sharpen knife frequently.
The handle is made of meticulously constructed military-grade G10 handle for life-long durability. Full tang handle ensures maximum robustness & quality. This 9" chef's knife is built to last.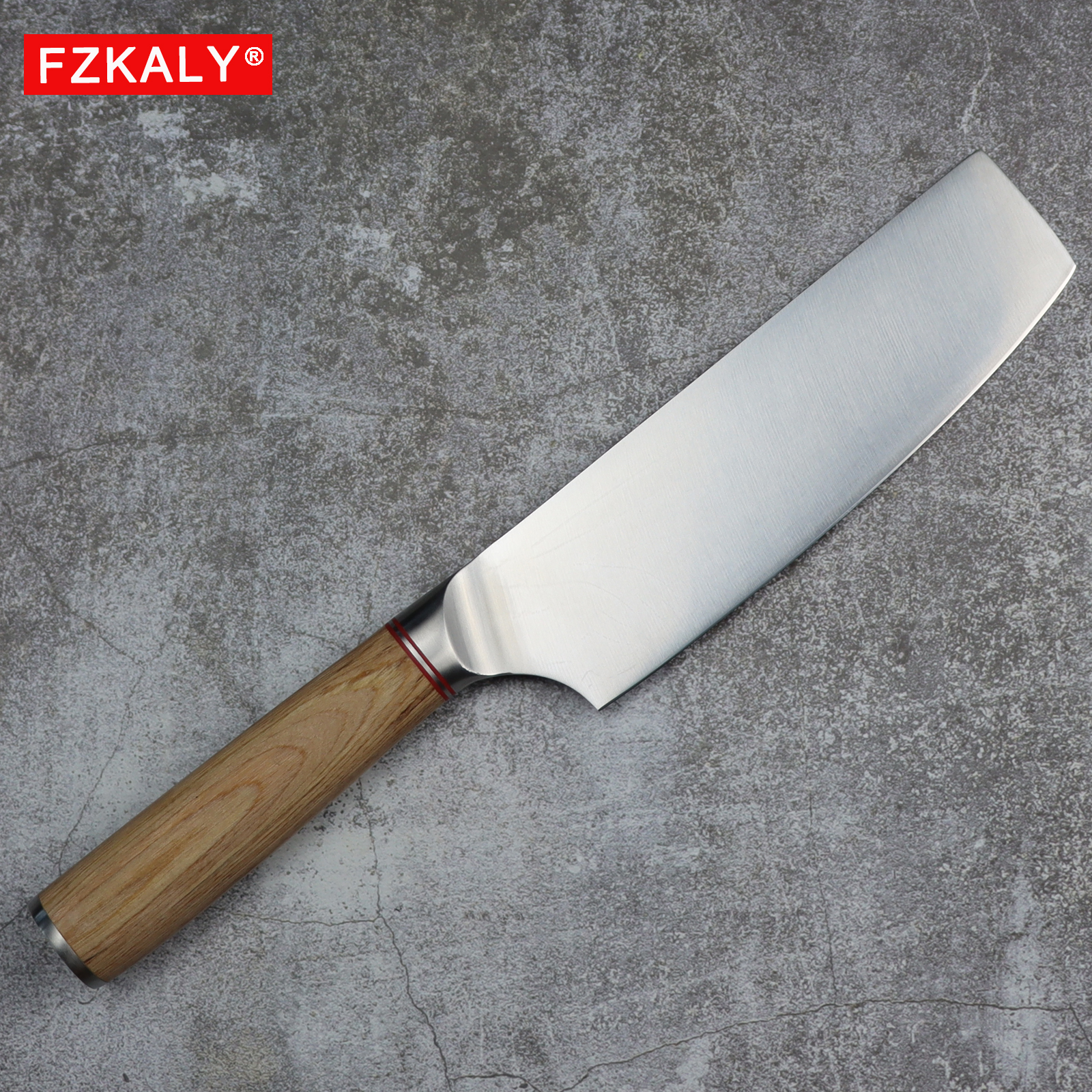 The Nakiri knife is a classic Japanese-style knife that is excellent for chopping, cutting, and cooking. If you want thinly cut vegetables and meat, this 6.5" Nakiri knife is a must-have. This Nakiri knife allows you to maintain a consistent cut, giving you an even slice.
This Nakiri knife has a 6.5" precision forged blade with premium 7Cr17MoV at 57±2 HRC. This 6.5" Nakiri knife is hand-wet-edged with 40 processes, such as Design, mold opening, heat treatment, water grinding, edge cutting, polishing, etc. The razor sharp cutting edge allows you to cut foods effortlessly. Most importantly, the edge won't chip easily.
The full tang handle is made from our natural wood, and the tail is covered with a handle cover to prevent dirt and dirt. Polished surface with natural wood texture looks visually appealing and feels comfortable in hand, making it easier to maneuver when working in the kitchen. Simply treating them with mineral oil will make the handle better.
The Fzkaly 8" Japanese chef's knife features high-performance high carbon stainless steel and 67 layers of Damascus cladding, Carbon content is about 0.95%-1.05%, making the blade with a razor-sharp edge, incredible edge retention, and striking beauty. The beautiful hand-hammered Damascus pattern greatly increases the aesthetics, but also enhances non-stick properties, making you more effectively finish your daily kitchen cutting task.
The handle is crafted from G10 with a beautiful red wavy finish. G10 is military-grade for moisture resistance and durability. Full tang design for superb robustness and riveted for even more resilience. The D-shaped ergonomic handle offers comfort and control.
This Damascus chef's knife offers the ability of resists rust, stain, and corrosion, perfect for both people who cook frequently and those who just like preparing snacks.
Comment