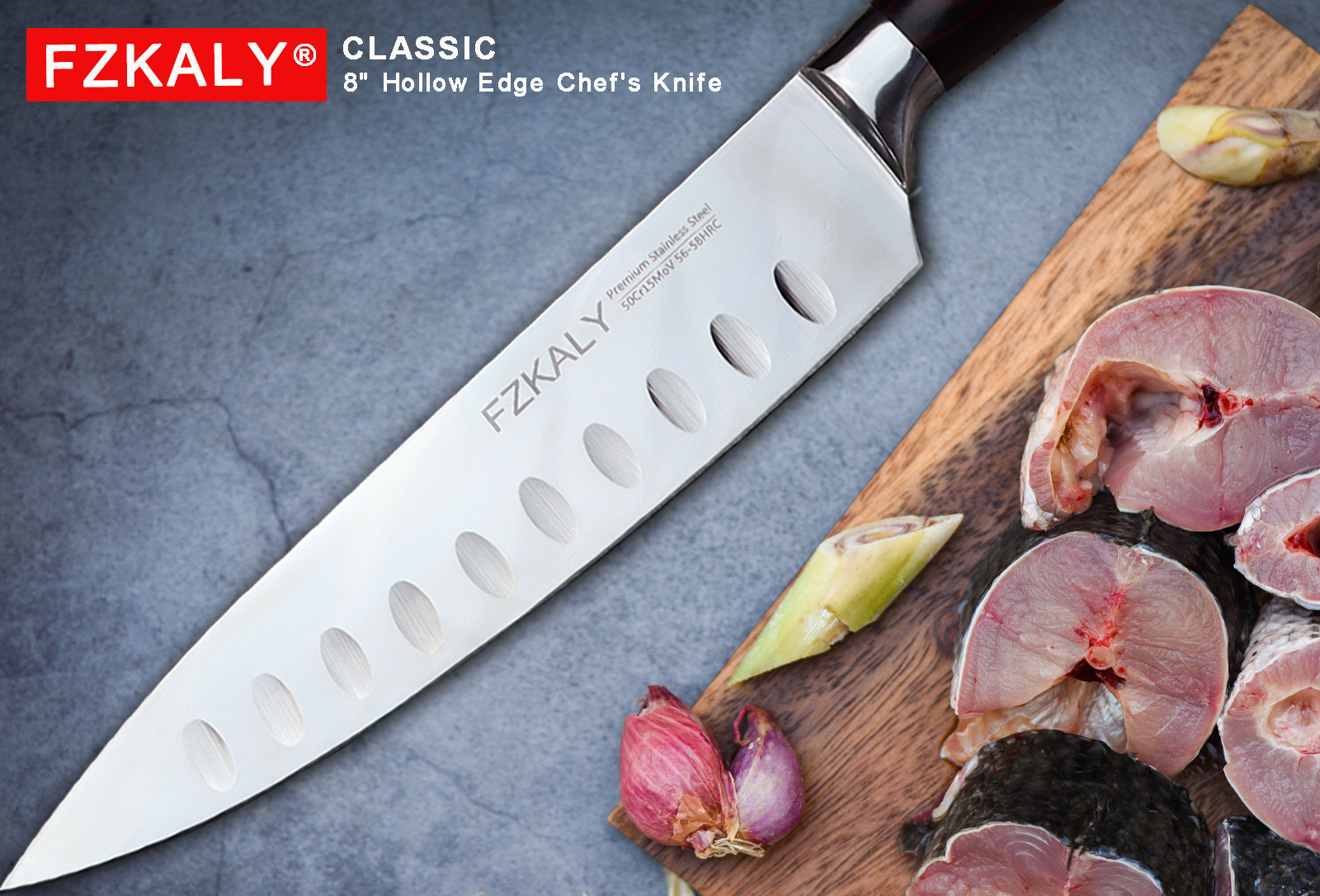 Fzkaly Classic Series: Features an 8" long blade with a full bolster for balance and finger guard. Triple-riveted handles are break-proof, beautiful and hygienic. The best-selling series chef knife can satisfy every cook nerd or amateur chef.
Multifunction Cook's Knife: The Fzkaly 8" chef's knife is essential for preparing any meal. This all-arounder cooking knife can be used for chopping, mincing, slicing, and dicing. It is also portable for outdoor trips and campers due to it is sharp right out of the box.
Hollow edge Design: The hollow edge is crafted with evenly spaced vertical indentations, which create small air pockets between the blade and the food. These small air pockets gently push food off the blade and minimize friction and create paper-thin slices. However, creating dimples on the chef knife's blade reduces its weight, making it lighter and boosts aesthetics and flexibility.
Precision Forged: The 8" chef's knife is forged from a single block of German stainless steel and tempered to 56-58 degree HRC. The X50CrMoV15 steel contains 0.55 carbon making it two times as hard as other knives in its class. 15% of Chromium offers better strength and edge retention.
Excellent After-sales Service: Quality is evident, great looking wood handle, beautiful sharp metal blade, the weight is perfect and balance is precise. Don't spend a bunch of money for a chef's knife. And we have a dedicated after-sales service team to deal with the problems you may have.
What's in the box
8" Chef's Knife x 1
Gift Box x 1
User Manual x 1
Soft Cloth x 1
---
MEASUREMENTS
Blade Length: 8 in
Handle Length: 5 in
Total Length: 13 in
Blade Thickness: 0.08 in(2.2mm)
Blade Width: 1.73 in
Net Weight: 0.42 lbs