Every delicious meal starts with the right chef knife. This classic 9-inch chef knife is a must-have for the serious cook. The fit, form, and function are an ideal blend, offering comfort, durability and efficiency.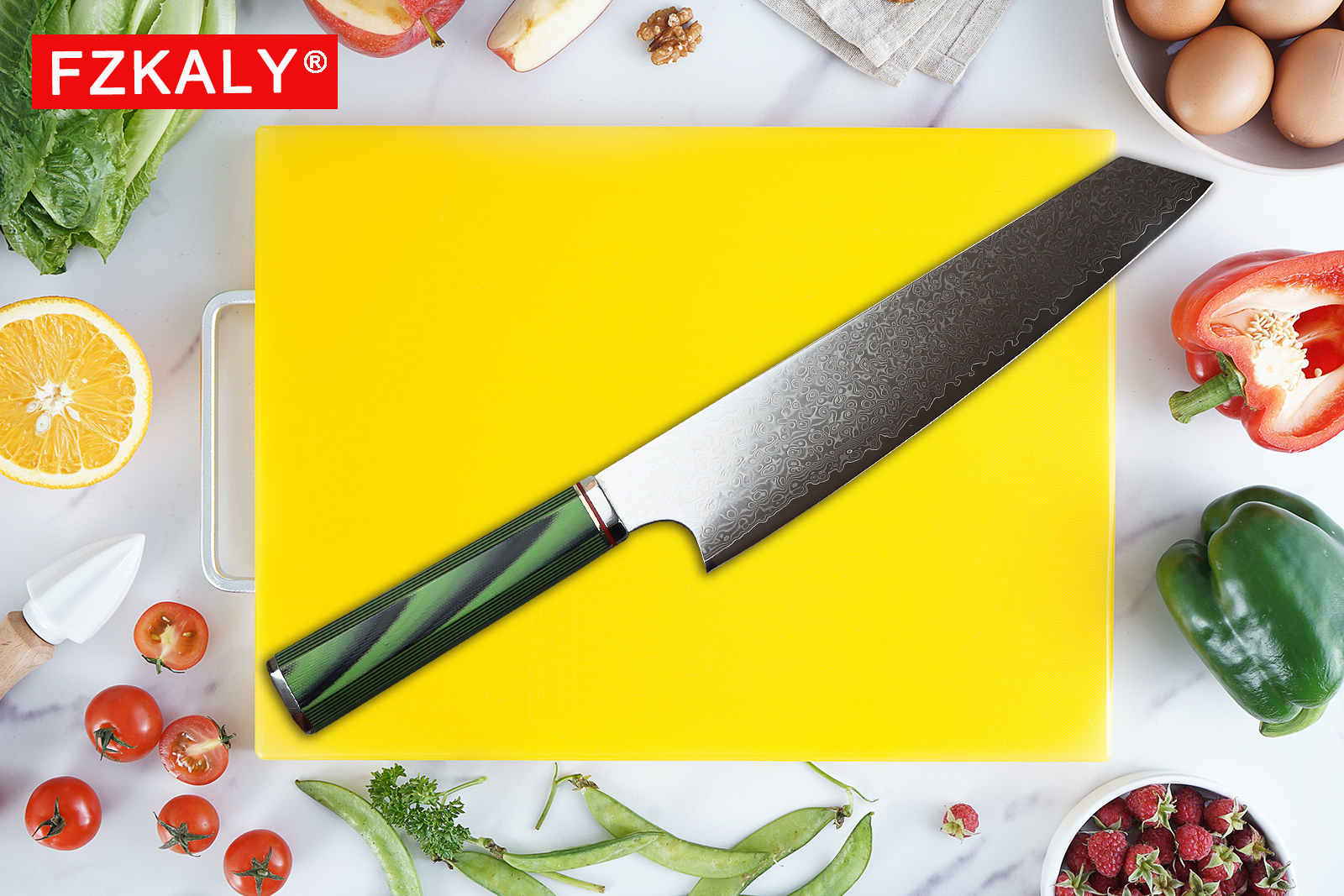 Quality Construction. The knife is precision-forged from a single piece of 66-layered Damascus high-carbon stainless steel cladding, with an ultra-premium Japanese VG10 steel cutting core offering super sharp cutting experience( Rated at 61+ Rockwell Hardness). Cryogenic tempering with liquid nitrogen increases the steel's crystalline structure and forged process, providing long-lasting edge retention. No need to sharpen knife frequently.
Superior Design. The ergonomic octagon handle is tough, lightweight and resistant to excessive physical wear. A longer blade is the perfect barbecue knife for slicing raw or grilled meat and larger foods with ease and efficiency. The narrower curved blade profile helps to follow contours and guide meat away from the bone. The exquisite hammered wavy Damascus finish is not only a beautiful statement of craftsmanship, but it also reduces drag and minimizes stuck-on food. 8-12°degree angle per side for precise cutting.
Comfortable Handle. The traditional Japanese octagon green handle is both elegant and utilitarian, offering great hand control and agility. Crafted of highly impervious G10, the chef knife's handle is resistant to heat, cold, and moisture. With a non-slip and easy-to-use grip, you'll enjoy both comfort and durability for years to come.
Best Use. Cook up a lightning-fast meal with this all-around kitchen knife. This 9" chefs knife is the perfect knife for chopping, mincing, cutting and BBQ roasting. Coming with a leather sheath, designed to protect your investment.
Easy Care. With a long-lasting sharpness, you don't need to resharpen it frequently. To maximize the performance and longevity of your Damascus chef knife, you'd better carefully wash it by hand after each use with warm water and mild soap; then rinse and dry completely with a soft towel. Do not place it in a dishwasher or submerge it for long periods of time.
---
Includes
9" Chef's Knife x 1
Knife Sheath x 1
Gift Box x 1
User Manual x 1
Soft Cloth x 1
---
Measurements
Blade Length: 9 in
Handle Length: 4.7 in
Total Length: 13.7 in
Blade Thickness: 0.08 in
Blade Width: 1.88 in
Net Weight: 0.6 lbs
---
Each hand-forged knife is a pleasure. An expensive feeling Damascus knife is a seductive hint of what culinary delight lies beyond sundown.
Get it to now start or improve your cooking journey.