Is Fzkaly a good brand?
Jul 22,2022 | Fzkaly
Have you ever tried a new restaurant or a new clothing brand and got the "Wow" feeling? It is good, right? I believe "Fzkaly" is this kind of brand of knives that makes you experience this feeling. You must be curious about why Fzkaly is a good brand? and what are they made from? And what is Fzkaly brand origin?
Well, we are here to answer a few of those questions.
1. What is Fzkaly brand origin?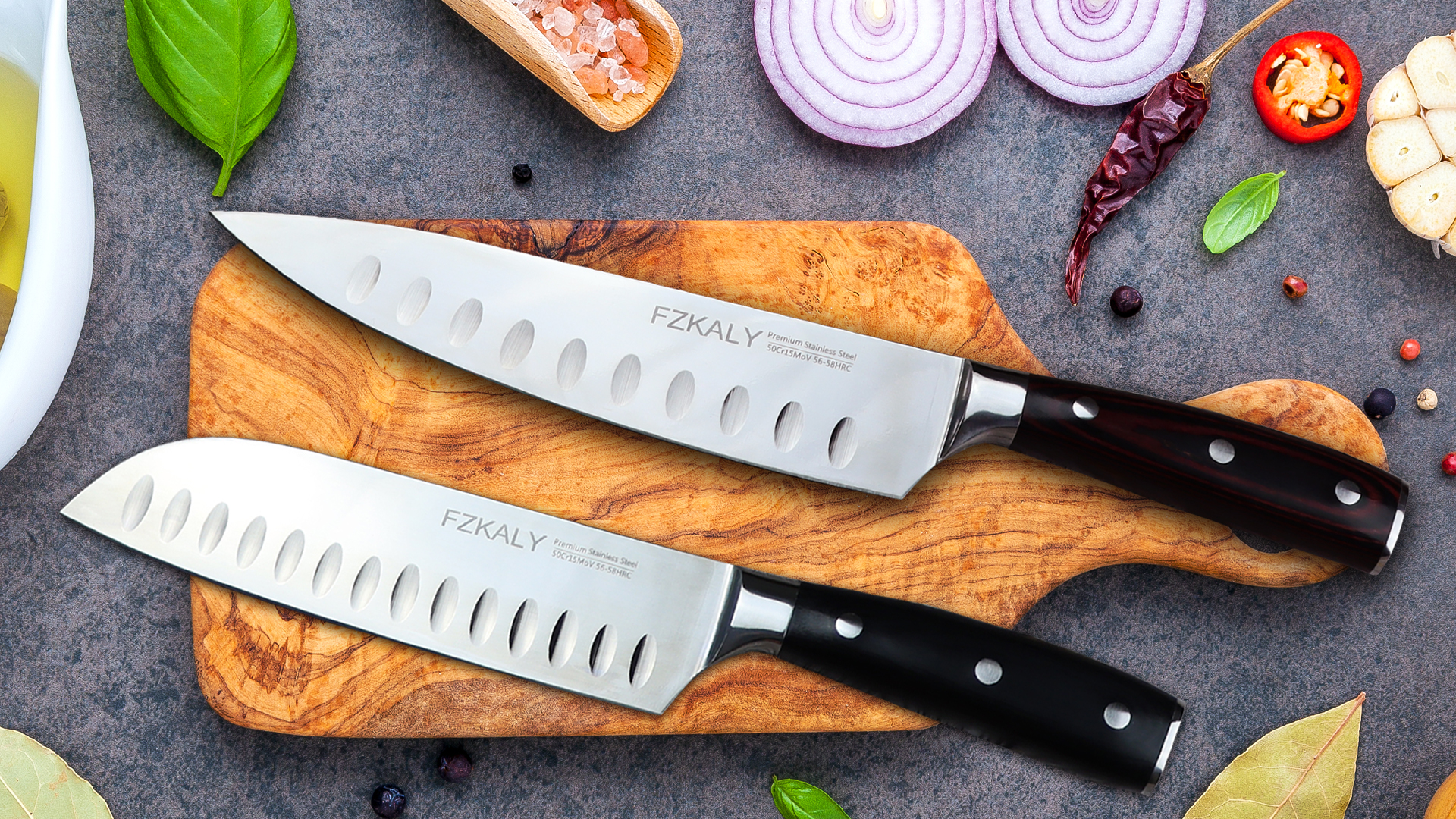 Our slogan is "Better knife, Better life." A person who cooks frequently knows how important it is to have a good kitchen knife in cooking.
The reason why people love home-cooked food more than restaurant food is the warmth home food carries. Fast food is catered to anyone but the food your mum(or dad/loved one) cooks is catered to let you happy. So, if there is someone who makes meal-prep in your family, get some quality kitchen knives for her/him, which will improve cooking efficiency and increase cooking pleasure. The home chef deserves your care and love. Own a good set of knives, the whole family would be happier due to the amazing cooking experience and delicious food.
Want to know more about Fzkaly, check our brand story at: https://www.fzkaly.com/page/about-us
2. Where are Fzkaly knives made from?
I believe you'll agree that any new manufacturing site represents a significant capital investment for any owner.
We have to consider lots of factors such as infrastructure,access to the supply chain, customers, local labor availability, wages, etc. After a comprehensive evaluation, we finally decide to choose YangJiang city(China) as our knife-making factory site.
YangJiang to China is what Tsubame-Sanjo to Japan, both are the most famous knife factories. The knife makers produce superb knives for world-leading brands, which are generally more affordable.
Why did Fzkaly choose Yangjiang as knife making factory?
As we mentioned before, there are many factors to consider. We share some important reasons with you.
Long history of knifemaking
Located along the southern coast of China, Yangjiang is the "Capital of Knives and Scissors", which has a renowned knife-making tradition dating back to over 1400 years. It is said that as early as the 19th century, American missionaries brought the quality knives of Yangjiang back home as gifts.
Complete knifemaking industrial clusters
A Japanese experienced knifemaker who brought his works to the Fair for the exhibition said that Yangjiang boasts delicate craftsmanship, world-leading machinery, and complete industrial clusters, making it an ideal platform for establishing partnerships.
Easy access to supply chain and lower cost
Our mission is to provide quality well made kitchen knives at competitive prices with great customer service.
We do this by going direct to German, Japan, America, and China for the top-rated steel and hand-crafting them in our own dedicated factories. No middlemen, no unnecessary supply chain. Only the highest quality kitchen knives on the market at competitive prices.
3. Where to buy steel for knife making?
We traveled to Germen on a service project and found everyone's kitchen like a laboratory, with so many types of knives. Idea! What if we connect these premium steel from around the world to people back home in the US? And thus, the Fzkaly knives were born. We are committed to seeking the top-rated steel in the world from different countries, such as German, Japan, America, and China.
Owning to cost, and manufacturing technology, some knife makers may use lower-quality steel, at Fzkaly, we promised to use genuine high-quality steel, you can experience the difference after you get our knives.
4. A quick review of Fzkaly
Better knife, better life. With the development of social networking, such as Facebook, Linkedin, and Instagram, People were busier and more stressed comparing their lives to others on social media, letting work overtake more and more of the work-life balance. Though life is busy, Fzkaly hopes you can enjoy a lazy meal time. So, we focus on manufacturing high-quality kitchen knives for greater performance in the kitchen and an uplift in mood. Indulge your taste buds in freshly dishes sure to perk up any cook lover day.
5. Popular products of Fzkaly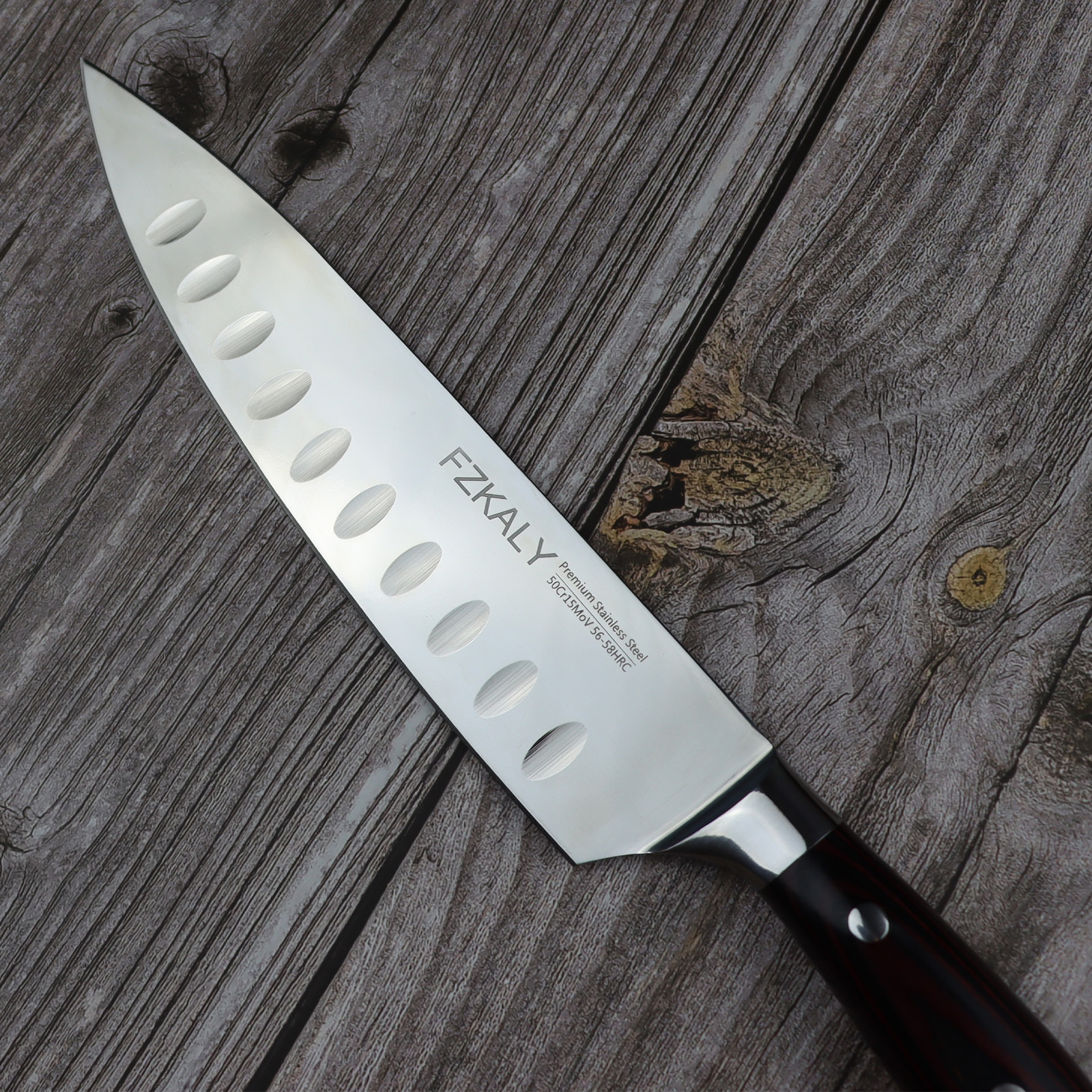 This classic 8" hollow edge knife represents our innovative attitude in the knife industry. Except for some famous brand, you are difficult to find a chef knife with a hollow edge. We overcame the challenges of craftsmanship through trial and error and finally finished this kind of chef knife. This is an all-rounder kitchen knife that is worth to have one.
Product info:
Premium German X50CrMov15 stainless steel
Hand sharpened to 14-16° per side
56-58 Rockwell Hardness for excellent edge retention
Ergonomic, full tang, three-rivet handle
Hollow edge design minimizes friction and creates paper-thin slices
We have been improving our product technology and exploring new products. We know how important it is to have a decent steak knife set to enjoy meats and leisure time. We have crafted 2 types of steak knives that are unlike any other on the market, you will love them.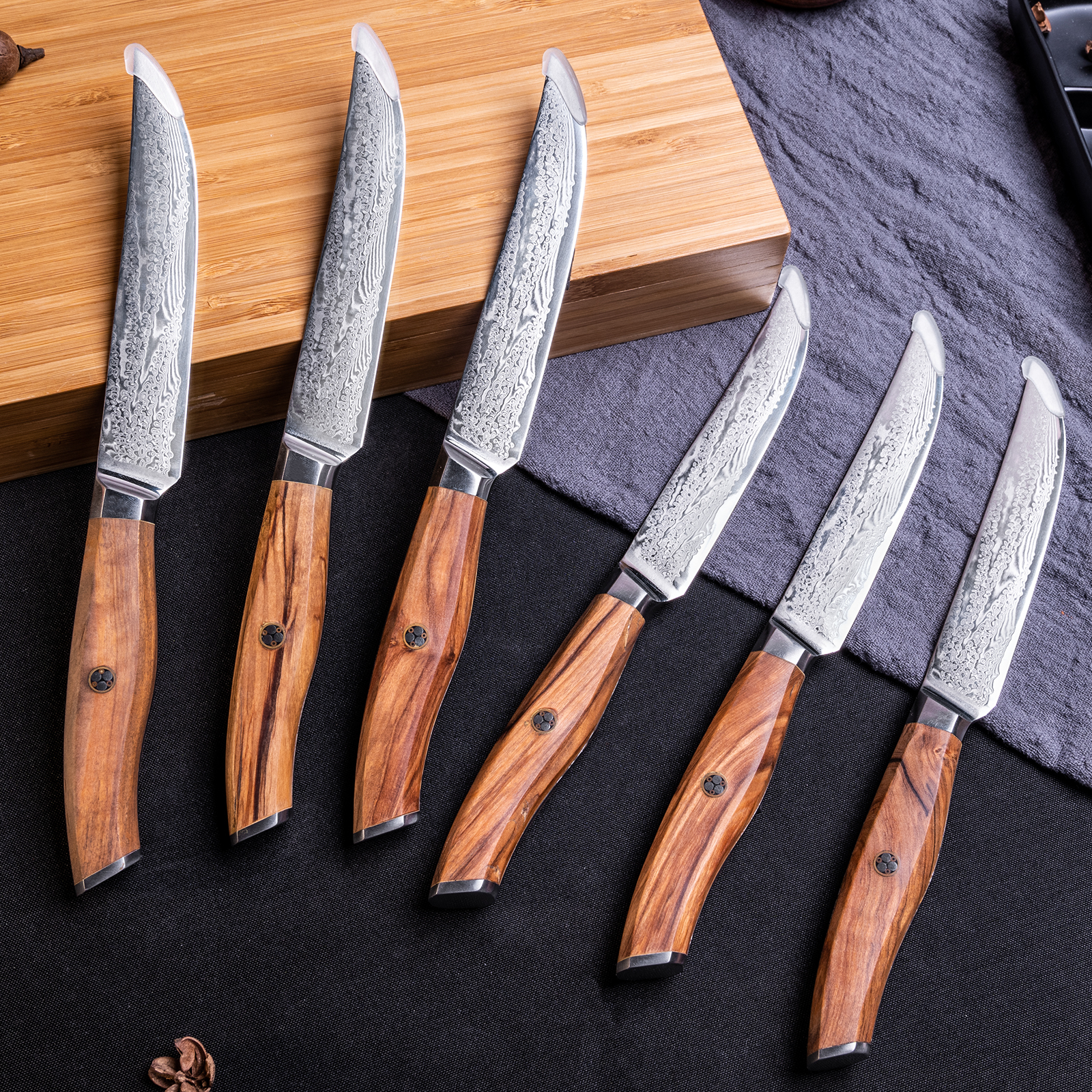 This 6-piece straight-edge steak knife set is special for its old-tradition fashioned olive wood knife handle and its daffodils-shaped Damascus pattern.
Product info:
The Blade: Japanese VG10 Steel, 5" Non-serrated
The Durability: Real Damascus, Extreme Sharpness, Ultra-sturdy
The Handle: Hand-crafted with Gorgeous Olive Wood
The Weight: Perfect Balanced for Superior Hand Control, Agility, and Comfort
This 6-piece non-serrated steak knife set has a good reputation for its colorful knife handle which is unique in the market.
Product info:
The Blade: Japanese AUS-10 Steel, Non-serrated
The Durability: Real Damascus, Extreme Sharpness, Ultra-sturdy
The Handle: Hand-crafted with Gorgeous Colorful G10
The Weight: Perfect Balanced for Superior Hand Control, Agility, and Comfort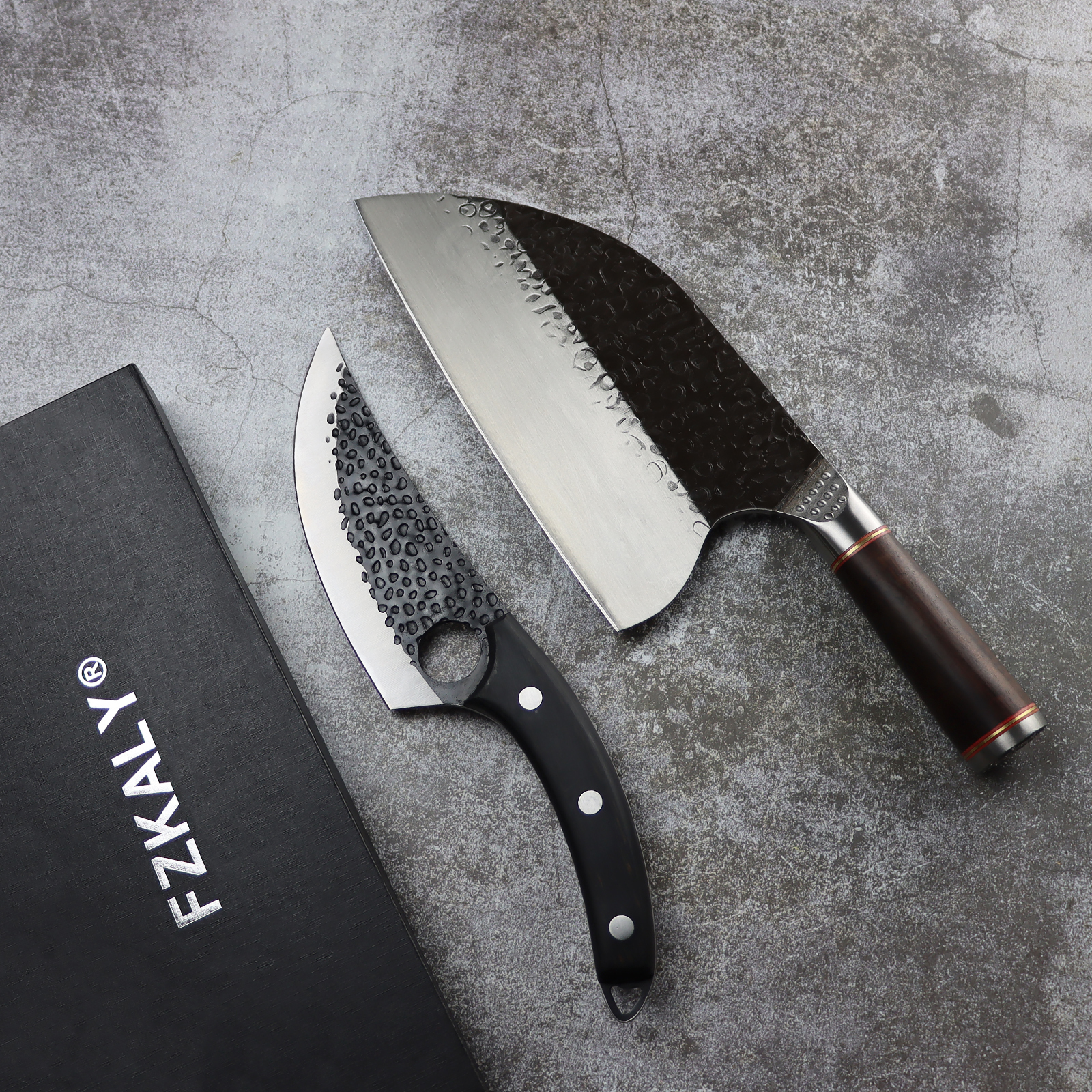 This 6" & 8" meat cleaver is a perfect combination. This heavy-duty beast will even cut down a tree and then delicately slice a tomato. The Fzkaly cleaver knife will get any job done, both indoors and outdoors. It is popular for its rustic looking and great for outdoor use.
Product info:
German X50CrMoV15 stainless steel
Engineered to perfection at 56-58 Rockwell Hardness
16° sharpening angle, incredibly razor-sharp
Non-slip wood handle with a full tang & comfortable grip
Set includes 6" & 8" meat cleaver, and leather knife sheath, easy to carry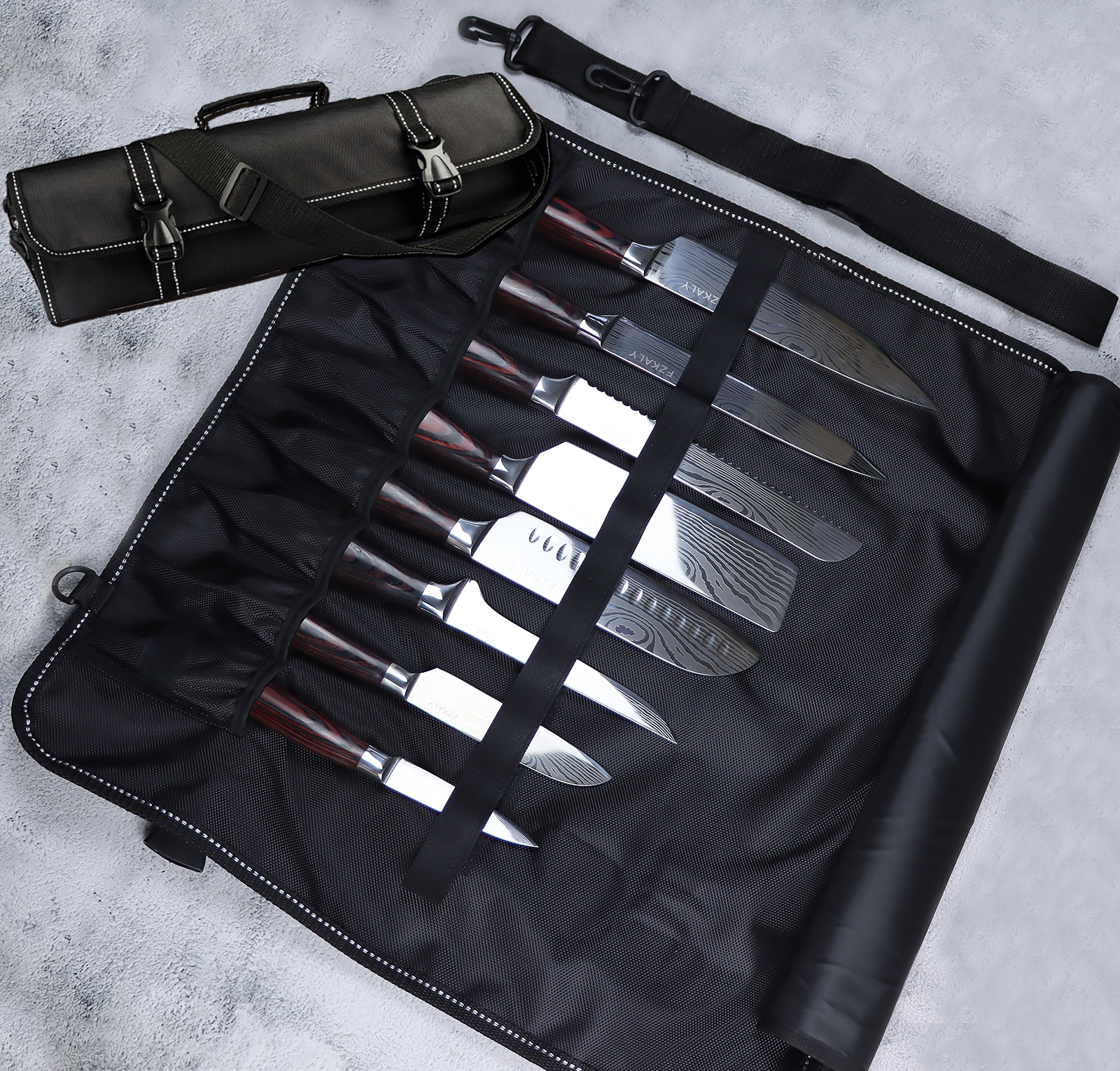 If you are a cooking nerd, I believe your kitchen must be like a library. You need a complete kitchen knife set to meet your imagination in food. While needing a knife roll bag to care for your knives safely and organized.
If you are a pro chef or a school cooking trainee, this portable chef knife set with a rolling bag is your perfect tool.
Product info:
100% German X50CrMoV15 stainless steel
Hand forged 14-16°degree angle per side
HRC 56-58 offer superior edge retention
Ergonomic Pakkawood handle for superior hand control
Comes with roll bag that can hold 8 knives for carrying out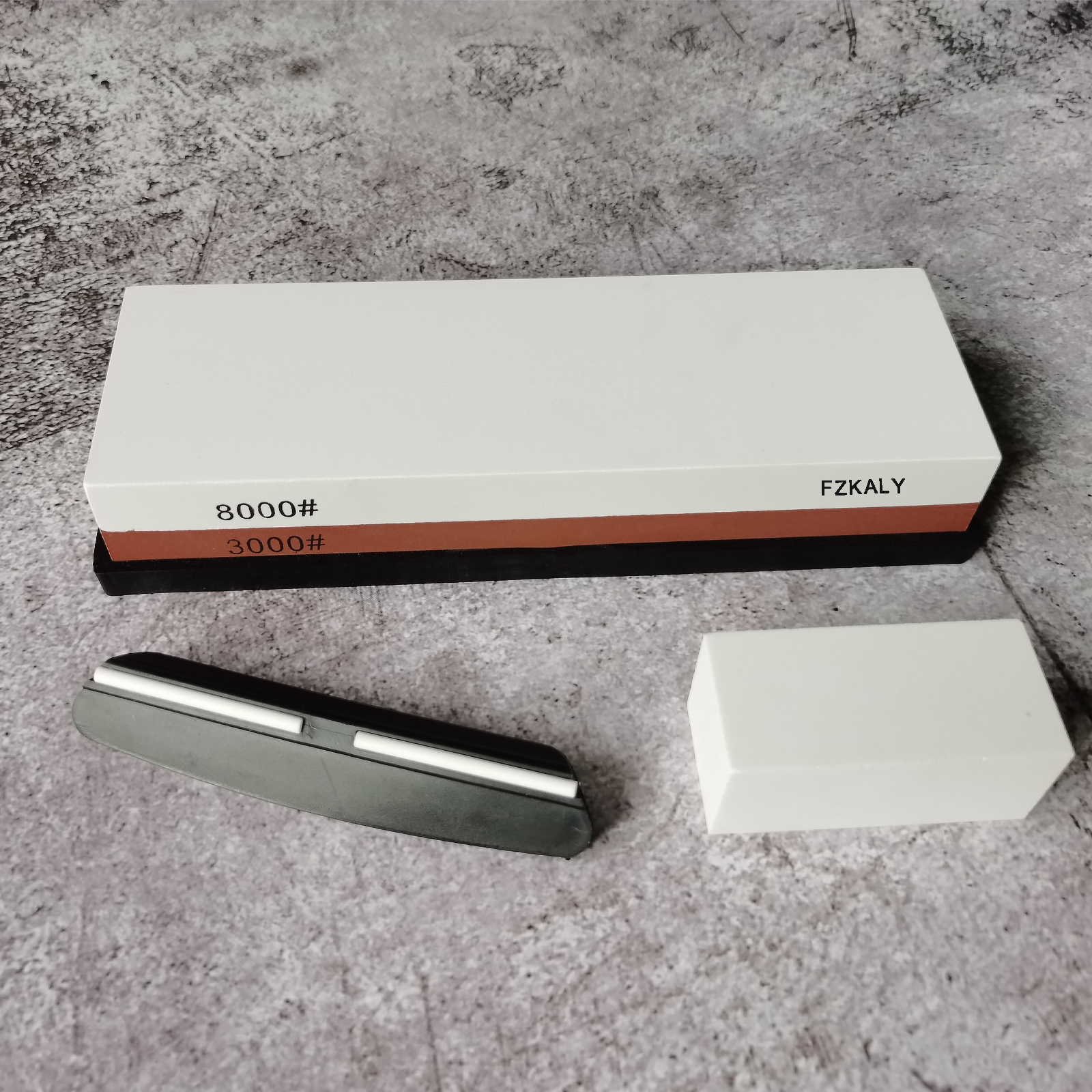 Taking good care of your knives is just as important as finding a good kitchen knife. You need but are not limited to the following tools.
Sharpening sticks/sharpeners/whetstones help keep your knives sharp without frequently updating knives. Knife holders/knife cases/knife bags help store your knives safely and organized, avoid dangers and extend the life of your knives. At Fzkaly, there is always one that suits your needs.
6. Are Fzkaly knives any good?
Yes. Our Product team fully stands behind our customers and products so much so that we offer a 100% satisfaction or money-back guarantee.
Let's see how customers said about Fzkaly knives:
Fzklay Steak Knives are well balanced and hold a sharp edge rather than rapidly get dull like some knives. They are supposed to have 73 layers of Japanese Damascus Steel which is said to resist rust. My preferred material for top of the line knives is still surgical steel although this is a high quality set of steak knives for sure. They are well balanced and have a decent heft to them. The textured blades seem to have a design on them but the real purpose of the texturing is to create air spaces during the cutting of meat to prevent the meat forming a seal on the blade while cutting the meat. This makes for a smoother meat cutting/slicing process. These knives come with a nice presentation in a wooden box. Each blade has a protective plastic cover on it to protect the fingers when a knife is lifted out. I would recommend them as a gift set, especially as a quality housewarming gift.
I have been frustrated trying to find good steak knives for years. I have tried several brands. Most are not sharp enough and do not even sharpen up well or hold their edges when I carefully sharpen them.
NONE of the ones I've tried were well balanced, and only one other brand (which had other issues) felt good in the hand when cutting with them.
These knives not only excel at all of the above, they are gorgeous, classy, and come with a very well-built and displayable box to store and protect them.
First, these knives are very expensive. They are, however, the best knives that we have purchased and we have been around over 70 years. Highly recommended.
7. Why Fzkaly is a good brand?
Good cat food is a necessity, but it shouldn't be expensive like a tonic. The purpose of life is not to find the expensive, but to find the right.Fzkaly knives is the right kitchen tools for you.
Fzkaly know what their customers need
At Fzkaly, we hope great kitchen knives can inspire your passion for life and remind you to show your care to the people you loved. After all, except a good kitchen tool, delicious dishes also need a person to spend time and effort on it.
Innovative product
Fzkaly continuously fine-tunes our efforts to explore new products and do something cutting-edge, new, and beneficial to consumers. We released an 8" hollow edge chef knife which is our newest product. It's a classic chef's knife, but it came at an affordable price. You can own a good chef knife without investing so much money in it.
Fzkaly is reliable
We deeply know reliability is one of the reasons consumers love a brand and know how hard it is to rebuild customers' trust. So, our items will be delivered within a certain timescale.
And we have a dedicated after-sales service team to deal with the problems you may have. We will reply within 24 hours to ensure Achieve 100% satisfaction for customers. YOUR INVESTMENT IS FULLY GUARANTEED.
Even if you are not satisfied with the product, we will provide solutions positively.
Finally, Fzkaly is absolutely a good brand that you can trust.
Comment