How to Use a Nakiri Knife
Mar 13,2023 | Fzkaly
Are you tired of struggling to chop and slice vegetables with your standard kitchen knife? Do you wish you could find a tool that made your vegetable prep easier and more efficient? Look no further than the nakiri knife - the Japanese vegetable knife that's designed to make vegetable prep a breeze. But with its unique flat blade and lightweight design, the nakiri knife can be tricky to use for those who are unfamiliar with it. That's why we've created a step-by-step guide to using a nakiri knife that's tailored to your needs. Our guide will help you unlock the full potential of your nakiri knife, with clear instructions on proper grip and cutting technique, as well as tips on maintenance and safety. Say goodbye to uneven vegetable slices and awkward cutting angles, and hello to effortless and precise vegetable prep. Whether you're a novice cook or a seasoned pro, our guide will help you master the art of using a nakiri knife. Ready to take your vegetable game to the next level? Read on to learn more!
Before we start, let's figure out what is a nakiri knife.
What is a Nakiri Knife?
The nakiri knife is a classic Japanese-style knife that excels in the realm of vegetable preparation. Its straight, symmetrical edge is perfect for slicing, dicing, and chopping vegetables with precision and ease. Unlike a Chef Knife, which utilizes a rocking motion, the nakiri knife encourages an up-and-down motion, making it ideal for celery stalks, carrots, onions, leeks, zucchini, and eggplant.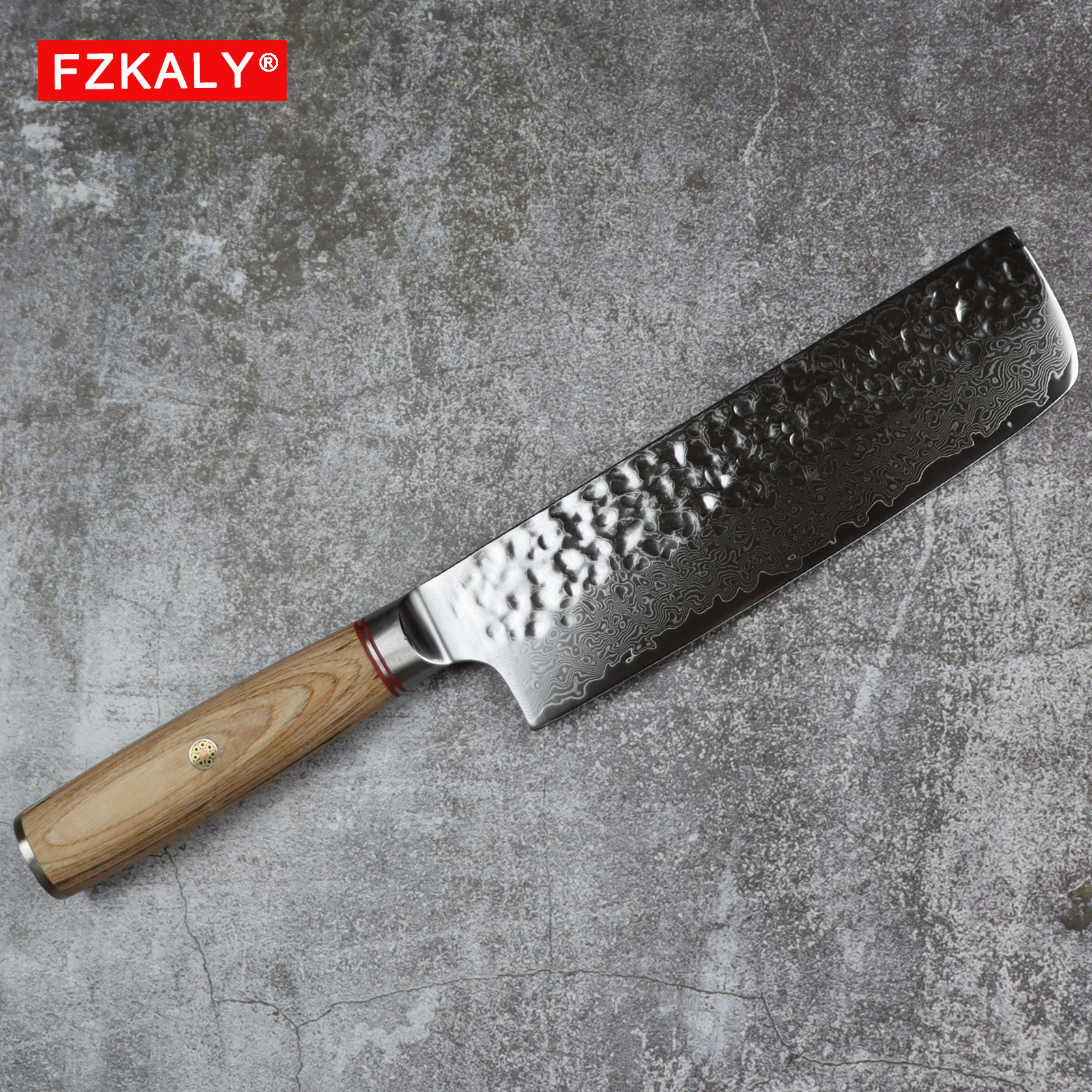 The nakiri knife is often referred to as the "double-edged Western style equivalent of a single-edged Japanese Usuba or vegetable knife," featuring a straight square blade, like a small cleaver, and is ideal for vegetable-centric cuts such as julienne, brunoise, and allumette.
Its flat edge makes it perfect for creating clean cuts of root vegetables, hard-to-chop veggies, and even delicate vegetables that can sometimes be squished under heavier, thicker blades.
What Can You Cut With a Nakiri Knife?
Here's a list of items that a nakiri can cut, but it is not limited to this:
Delicate leafy greens like spinach, lettuce, and kale.
Dense and fibrous root vegetables such as carrots, radishes, and potatoes.
Soft and juicy fruits and vegetables like tomatoes, peppers, and strawberries.
Aromatic herbs include basil, parsley, and cilantro.
Tougher vegetables like cabbage and Brussels sprouts require a sharp blade for clean cuts.
Pungent onions and garlic can be sliced without crushing or tearing.
Eggplants and zucchinis can be precisely sliced into thin rounds or long strips.
Hard-shelled squashes and pumpkins can be easily chopped without damaging the blade.
Small legumes and beans require precise cutting for optimal results.
After we know what a nakiri knife is and what food items a nakiri knife can be used to cut, let's focus on the most important question, how to use a nakiri knife?
How to Use a Nakiri Knife?
Here are the steps to use a nakiri knife:
1. Grip the handle
Hold the nakiri knife with your dominant hand, and grip the handle firmly. Make sure your fingers are not too close to the blade.
Tips: There are two grip methods for holding a nakiri knife - pinch grip and hammer grip.
When using the pinch grip, the thumb and pointer finger pinch the blade while the remaining fingers wrap around the handle, providing good control and preventing slipping.
Another option is the hammer grip, which involves holding the handle like a hammer with the thumb on one side and the remaining fingers wrapped around the handle.
At the same time, the non-cutting hand should be positioned with the four fingers bent under and the knuckles used as a guide to coax ingredients towards the blade.
The pinch grip allows for precise cutting while holding the handle with the whole hand provides more force for larger vegetables. The key is to let the thin and sharp edge of the nakiri do the work and avoid applying unnecessary force.
2. Place the tip of the blade on the cutting board
Position the blade at the edge of the cutting board and ensure that it's perpendicular to the board.
3. Slice through the vegetable
Slice through the vegetable, moving the knife up and down while keeping the tip of the blade in contact with the cutting board. This motion will help you to cut the vegetable evenly and prevent it from slipping.
Tips: When using a nakiri knife, the key is to chop in a straight up and down motion. You can also slice forwards and backwards, but always maintain the up and down motion with your arm. Unlike other knives, the nakiri is specifically designed for precise cuts of vegetables, so the up and down motion is essential for achieving optimal results.
4. Use the flat edge of the blade
The flat edge of the nakiri knife can be used to smash or crush garlic, ginger, or other ingredients that need to be crushed or pounded.
5. Use the tip of the blade
The tip of the nakiri knife can be used for precision cuts such as removing the stem of a tomato or removing the eyes of a potato.
6. Keep the blade sharp
A sharp blade is essential for efficient and safe cutting. Use a sharpening stone or honing rod or whetstone to sharpen your nakiri knife regularly.
When it comes to sharpening, the nakiri knife should be treated no differently than any other knife in your kitchen. We offer an excellent guide(How to sharpen a knife with a whetstone) that provides all the tips and tricks you need for sharpening your knives.
Top 7 Nakiri Knives To Buy
If you're a fan of vegetable prep, a nakiri knife is a must-have tool in your kitchen. With its straight edge and high rockwell hardness score, this knife makes chopping and slicing a breeze. To help you choose the right one, we've put together a list of the best nakiri knives available, along with their pros and cons.
With its sharp blade, comfortable handle, and resistance to rust and corrosion, This stainless steel knife is a great investment for any home cook or professional chef.
Pros:
▪ Premium German X50CrMoV15 stainless steel
▪ Edge angle 14-16 degrees double bevel edge
▪ 56-58 Rockwell Hardness
▪ The ergonomic Pakkawood handle, non-slip, waterproof, sturdy
▪ Full tang construction, comfortable & durable
▪ Affordable, the price is super nice
Cons:
You may need to sharpen it frequently
While aesthetics are important, the Fzkaly Damascus nakiri knife goes beyond just its sleek look. This knife is a powerhouse in the kitchen, effortlessly slicing through all kinds of vegetables with its razor-sharp blade. Not only is it efficient, but it also adds an elegant touch to your kitchen with its beautiful Damascus pattern and Red textured G10 handle.
Pros:
Crafted with the finest Japanese VG10 super steel, this knife is a true masterpiece of high-carbon stainless steel.
The blade has been meticulously tapered to minimize surface resistance and features an optimal blade height for easy food transfer and improved knuckle clearance.
The hammered finish of the blade reduces drag and adds a unique touch of elegance to the knife. And let's not forget the stunning Damascus pattern and red D-shaped G10 handle that gives it an eye-catching charm.
Cons:
This knife embodies the beauty of details with its unique, modern design. If you prefer a simple style, you can think about this classic look nakiri instead.
This vegetable knife boasts a simple yet effective design, effortlessly tackling a wide range of produce. With its high carbon steel blade, it effortlessly slices through everything from pineapples to eggplants, as well as delicate baby tomatoes from your garden. Say goodbye to fuss and hello to efficiency with this reliable kitchen tool.
Pros:
High-performance 7Cr17Mov high-carbon steel
Hand-polished to 14-16 degrees per side
57±2 Rockwell Hardness
Ergonomic ABS handle which makes it stand out in nakiri
The price is nice
Cons:
The look is a little special, if you don't want to try a new style, you may don't like it.
This nimble vegetable knife is just what your kitchen needs. With its sleek design, premium Japanese steel, and comfortable ergonomic natural wood handle, it effortlessly gets the job done and makes you look like a pro.
Pros:
6.5" precision forged blade with premium 7Cr17MoV at 57±2 HRC
Hand-polished by craftsmen with 15° sharpening angle
The solid natural wood handle provides a safe, comfortable grip
Unique sloped bolster design for durability and flexibility
This knife strikes the perfect balance in terms of size.
The price is cheap
Cons:
The 6.5 inches here are perfect for most people, but if you want a bit more blade you could consider other sizes or other types of knife.
FAQ
How and Why the Nakiri Works So Well?
The rectangular blade shape of a nakiri is flat and thin, allowing it to easily make precise cuts through vegetables without damaging them. The straight blade also enables a clean and smooth slicing motion, ensuring that the vegetables are cut evenly and precisely. For instance, cutting a watermelon in half is effortless with a nakiri knife – a single tap with the blade is often enough to split the fruit in two. Similarly, the nakiri knife is incredibly effective when it comes to cutting tough produce like pumpkins and butternut squash. The sharp blade easily slices through these items without requiring excessive force or causing undue strain on the user's hands or wrists.
In addition, the blade of the nakiri is wider than other knives, allowing for greater surface area contact with the cutting board. This design feature provides better stability and control while cutting, reducing the likelihood of the knife slipping or veering off course.
The Nakiri Cutting Technique
Nakiri knives are designed to be used with a straight up-and-down chopping motion, as opposed to the rocking or push-and-pull motion typically used with a Gyuto or chef's knife.
Nakiri VS Chefs Knife
The nakiri knife has a thin, lightweight blade and a flat edge, while the chef's knife has a wider, heavier blade and a curved edge that allows for a rocking motion.
Nakiri VS Usuba
The nakiri knife has a straight, rectangular blade and is great for chopping vegetables, while the Usuba knife has a slightly curved, single-bevel blade and is designed for more precise cuts. The Usuba knife is typically thicker and heavier than the nakiri knife and is sharpened on only one side of the blade.
Nakiri VS Santoku
The nakiri and santoku knives differ in blade shape and use. The nakiri has a rectangular blade that sits flat on the cutting board, making it ideal for chopping vegetables with a straight up-and-down motion. Its thinner blade should not be used for tougher cuts or butchering meat. The squared-off tip also limits the knife's length to just over six inches. On the other hand, the santoku has a curved blade that allows for a rocking motion while cutting and is more like an all-purpose, traditionally shaped knife used for a variety of kitchen cuts. It tends to have a thicker blade than the nakiri. Both knives have their own strengths and can be valuable additions to a kitchen arsenal.
Is a Nakiri knife Worth It?
If you frequently cook with vegetables and are looking for a specialized knife to handle those tasks, then a nakiri knife could be a valuable addition to your kitchen arsenal. It can help you cut vegetables with greater precision and speed, making your prep work more efficient.
Can I Use Nakiri for Meat?
Nakiri is not the most effective or efficient tool for meat. Nakiri knives have a flat, straight blade that lacks the pointed tip and curved edge of a typical meat knife. This makes it difficult to handle thicker cuts of meat or tougher textures, as the flat blade is not well-suited for sawing through sinew or bone.
Final Words
Hope you have a clearer understanding of how to use a nakiri after reading the article. At the same time, a Nakiri knife is a vegetable killer. If you often handle vegetables, a nakiri is a worthwhile investment.
Comment