Are you looking for a fine chef knife roll set for a budget price that will last a lifetime? Here you got the right place.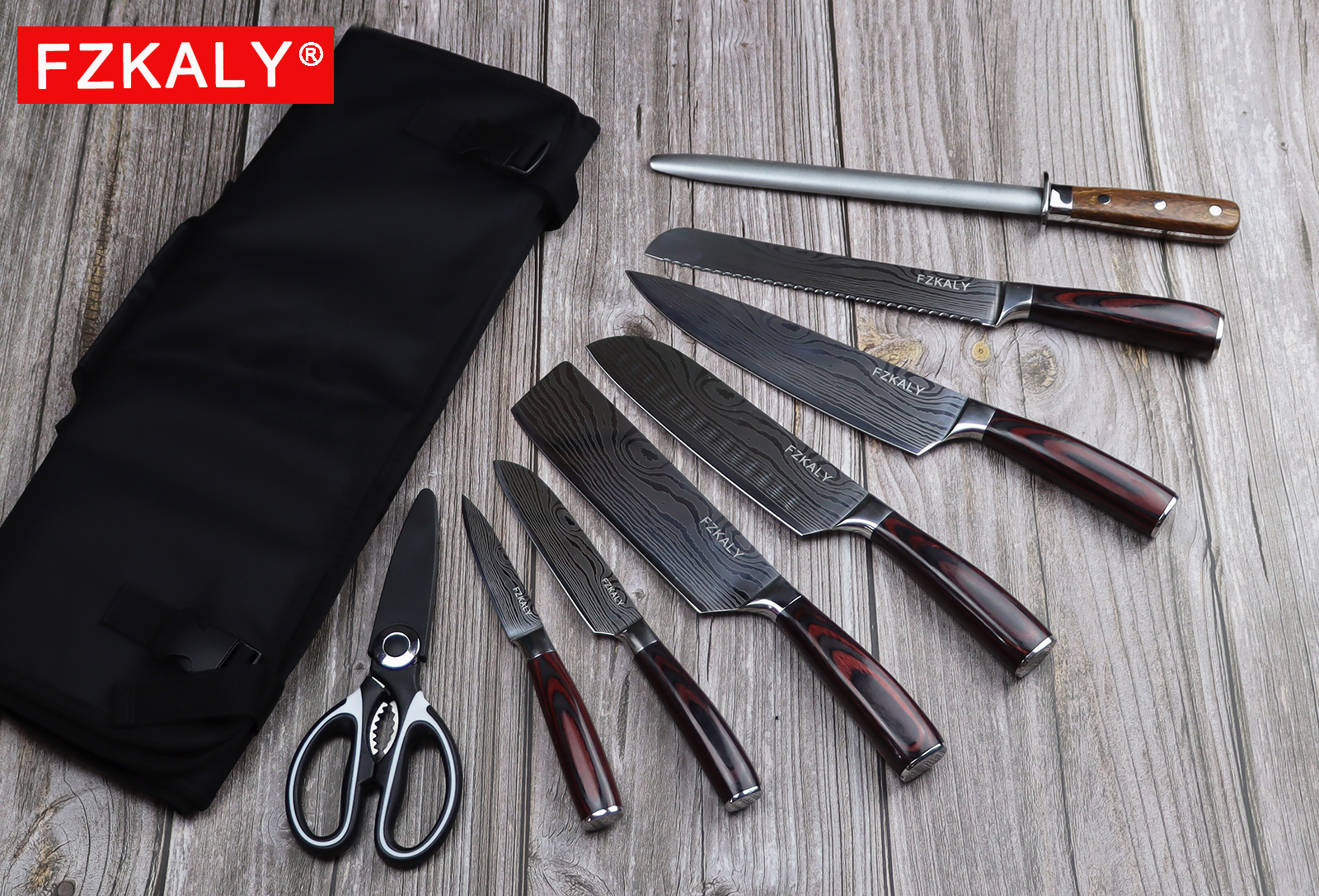 One Set For All Task: Fzkaly professional 8 piece knife roll set includes 6 commonly used kitchen knives plus a sharpening rod, scissor, and a portable roll bag. It can handle any food from fibrous vegetables and delicate fruits to sumptuous cheeses, bread, meat, and sizzling steaks with mouthwatering ease. Fzkaly knives set is to ensure your fantastic experience on climbing, camping, fishing, outdoors, kitchen cooking, etc.
Ergonomic and Durable Construction: Each knife features powerfully durable full-tang construction (blades are 1 solid piece of metal), and weight distribution is even for control and accuracy. The lightweight and ergonomic color wood handle makes users feel quite balanced and you won't feel finger numbness. Letting you chop, slice, or dice like a pro!
Tidy Space and Convenient Carrying: The knife roll bag is a good storage organizer for conveniently safe transportation and allows you better place your knives in ordinary times to avoid mess.
Easy to Use, Care & Clean: The blade is crafted out from high-quality stainless steel and uses a v-shaped and fine processing blade, which can maintain long edge retention. The surface of the knife is mirror-polished which is smooth and easy to clean. Wipe quickly with a damp sponge and then dry with a soft cloth.
Excellent After-sales Service: Quality is evident, great looking wood handle, beautiful sharp metal blade, the weight is perfect and balance is precise. Don't spend a bunch of money for a chef knife set. And we have a dedicated after-sales service team to deal with the problems you may have.
What's in the box
3.5" Paring knife x 1
5" Santoku knife x 1
7" Santoku knife x 1
7" Nakiri knife x 1
8" Bread Knife x 1
8" Chef's Knife x 1
Kitchen Scissors x 1
Sharpening Rod x 1
Chef knife roll bag x 1
Knife sheath x 8