Feature
Premium Damascus vg10 steel core cladding with 67 layers of soft high-carbon stainless steel
Hand-sharpened to 15° per side creates paper-thin slices
60±2 Rockwell Hardness for excellent edge retention and sharpness
Ergonomic, full tang, unique resin synthesis handle
Humanized finger protection design protects your hands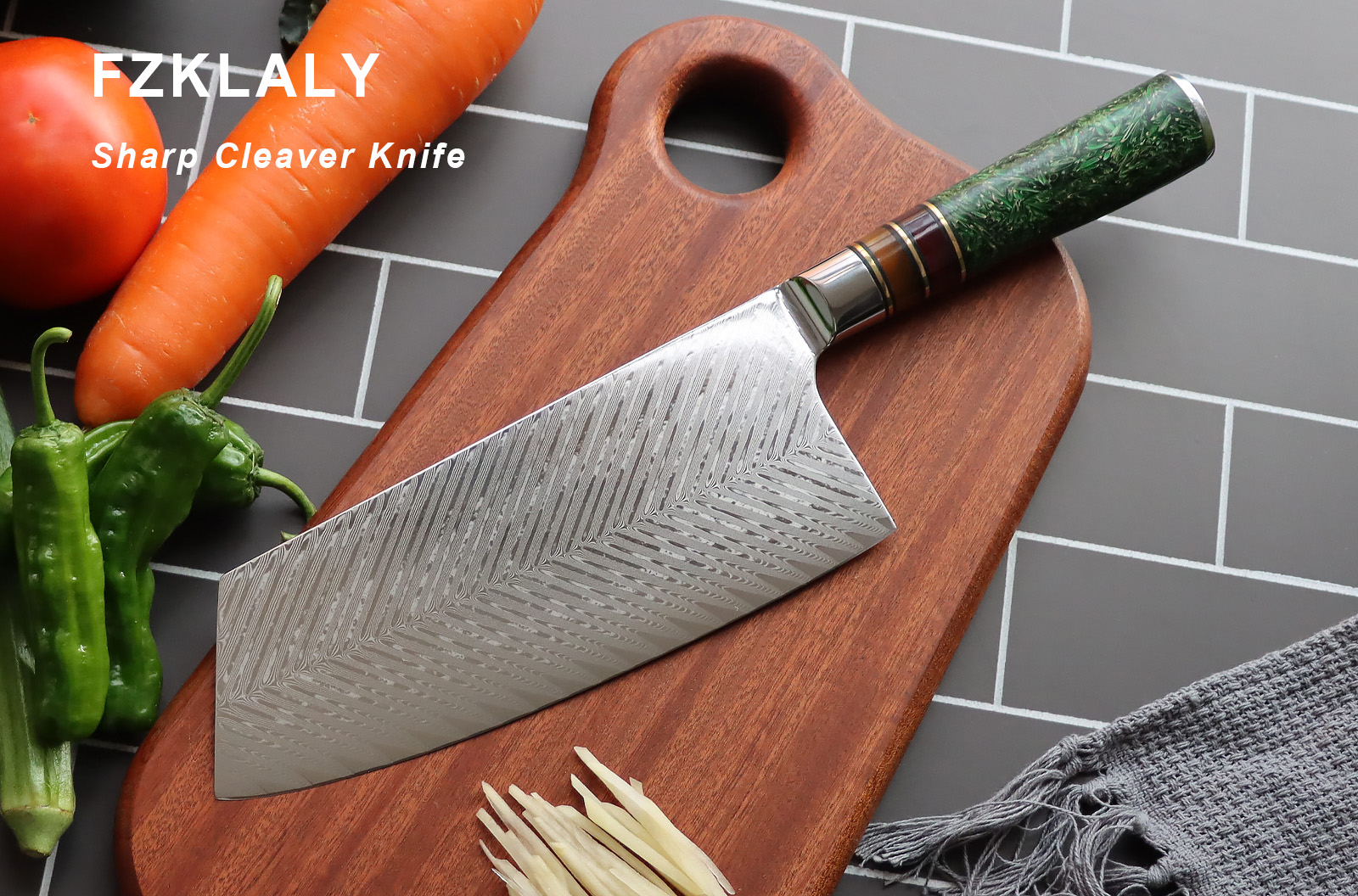 Materials
Blade: vg10 core
Blade Finish: 67 layers of Damascus steel
Cladding: premium high-carbon stainless steel
Bolster: Damascus steel
Handle: green resin handle
Blade Hardness: 60±2 HRC
Thickness: 2mm
Blade Length: 8 in
Why our cleaver knives are different?
Lock in Nutrients and Save Prep Time
Crafted with top-quality materials and techniques to ensure a razor-sharp edge, this Damascus cleaver knife can lock in the natural flavors and nutrients of your food. You can slice a tomato with just the weight of the knife and glide through chicken, beef, and pork AKA meat like room-temperature butter.
15° cutting edge on each side ensures more precise and thinner cuts, that save time in food preparation, so you can spend more time enjoying your meals with family and friends.
Special Forging Techniques for Lasting Sharpness
Crafted through more than 40 meticulous forging processes, including design, modeling, heat treatment, water sharpening, edge creation, and polishing, this chef knife has the optimal balance of hardness and toughness, making it durable, long-lasting, and perfect for precision cutting and slicing. Unique Damascus patterns also formed in this process, making them beautiful works of art that are also highly functional.
Quality Guarantee
Featuring a Damascus-forged steel core and 67 layers of folded steel, this chef knife has a stable hardness of 60+2HRC for long-lasting sharpness. So, you won't need to replace your knives as often.
Comfortable Grip
The knife handle is made with green resin synthesis, which is known for its durability, resistance to wear and corrosion, and beautiful texture. The full-tang construction offers a non-slip comfortable grip and provides a smooth and seamless cutting experience, while it is also special and beautiful.
Durable and Easy to Clean
This Damascus cleaver knife is made with materials that are resistant to corrosion, making it easy to clean and less prone to rust. With proper care, it can provide a reliable cutting experience for up to 30 years.