The Best Cleaver Knife of 2022
Aug 30,2022 | Fzkaly
If you usually work with thick and large cuts of meat, cartilage, and bone, such as dismantling a whole chicken, breaking down ribs, processing lobster shells, or separating steaks, a meat cleaver knife is a good choice. Here is the best cleaver knife for your kitchen.
Our Top Picks
Before we introduce the best meat cleavers, we need to make it clear: why you need a cleaver knife and what to look for in a meat cleaver.
Why do you need a cleaver knife?
Cooking should be fun rather than leave you tired and complaining. A good meat cleaver is a big help when you work with meat, bone, and gristle. Because it will make cutting tasks, even the really tough ones, much easier and make cooking prep work more enjoyable and less time-consuming. Next, let's take a further look at the benefits of owning a cleaver knife:
Thick spine and blade, allowing quick work of large chunks of meats, bones, and cartilage which a chef's knife can't do.
Separating chicken and processing poultry and meat ready for delicious meals later.
Single pieces of high carbon stainless steel provide long-term durability and strength.
Solid, ergonomic handles ensure a great grip.
What to look for in a meat cleaver knife?
We have already understood the reasons for having a meat cleaver knife and the benefits of owning it. Next, let's take a look at how to choose a meat cleaver that suits you from a wide variety of products.
Of course, not all cleavers and people's requirements are the same. You have to check out the knife's specifications to see if it meets your needs. Like with any knife, these basic elements are important factors to consider, including the material of the blade, the blade structure, the size, and the stability of the ergonomic handle etc. To extend your cleaver's lifetime, your cleaver should be:
Tough steel resistant to strike
Well-balanced structure, nice weight distribution
Comfortable grip
Suited for tough tasks
Pro tips: Cleaver knives are meant for heavy and tough work. It doesn't require the razor-sharp edge of expensive premium German or Japanese steel. When cheaper choices are serviceable, no need to pay more price for the expensive ones.
Next, let's further discuss the factors.
The material of the blade
The material is a critical factor in making a knife. The material could be stainless steel, carbon steel,high-carbon steel, or Damascus steel. Carbon steel is a durable and economical choice, but it needs proper care due to it is easier to rust.
Comfortable handle
You need to control the knife by your arm interacting with the knife handle. Thus, if the handle is safe, sturdy, and comfortable to use is important. The materials of the handle could be plastic, stainless steel, wood, ABS polymer, G10, etc.
Which one to choose depends on your preference. But, the handle should be ergonomically designed and use high-grade materials for efficiency and comfort. Usually, the cleaver comes with a wooden handle with a brass rivet is the most common match due to wood is less likely to slip in the hand. Of course, the wooden handle needs more care such as oiling to stay shiny. Some people prefer the ABS polymer handle due to it is more hygienic.
Construction
A meat cleaver knife is mainly used in heavy tasks, so, a well-constructed knife with durable materials is important. The knife should be heavy enough for tough tasks.
Blade Thickness
A thin blade is perfect for paper-thin slices, however, a cleaver knife should have a thicker blade that allows easy cutting through bones without warp or waive or breaking down.
A thick blade ensures sufficient weight to handle bone, cartilage, and muscle with a single strike.
Balance
A well-balanced knife is safe and comfortable. The blade's weight of a cleaver knife is higher than other knives, thus, the weight of the handle also needs to be higher to create a balance that feels right in the hand. A balanced knife ensures you hit the right spot in each cutting motion.
Size
If the size of a meat cleaver is too short, it is easier to get stuck in bulky food items. The size of most popular cleavers in home kitchens is 6 to 8 inches which are versatile for daily kitchen tasks. If you need to work with bigger pieces, you can choose a longer-size cleaver.
Best Cleaver Knife in 2022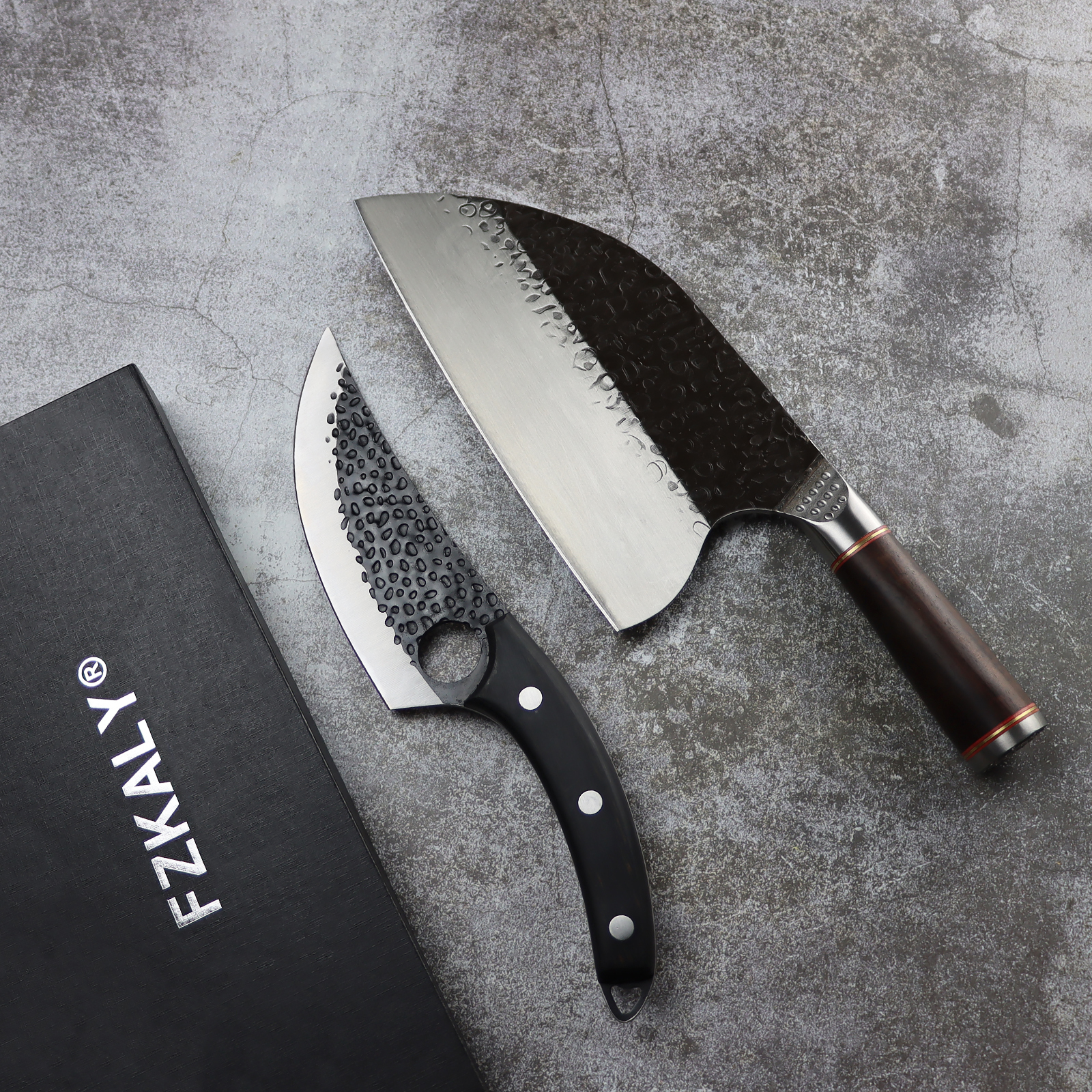 This cleaver knife set is perfect for breaking down smaller cuts of boneless meats and poultry as well as slicing, dicing, mincing, and chopping tough vegetables.
If you prefer the aesthetics and more secure grip of a wooden handle, this meat cleaver set is a perfect choice. German X50CrMoV15 stainless steel is strong and super-sharp, the hammered finish makes it looks more appealing. The ergonomically designed wooden handle offers a great grip. The cleaver knife set comes with a matched leather sheath for safe keeping and conveniently carrying. It is not only good for the home kitchen but also ideal for outdoor activities such as camping, picnic, bbq, or RV.
Pro:
German X50CrMoV15 stainless steel
Engineered to perfection at 56-58 Rockwell Hardness
16° sharpening angle, incredibly razor-sharp
Non-slip wood handle with a full tang & comfortable grip
Set includes 6" & 8" meat cleaver, and leather knife sheath, easy to carry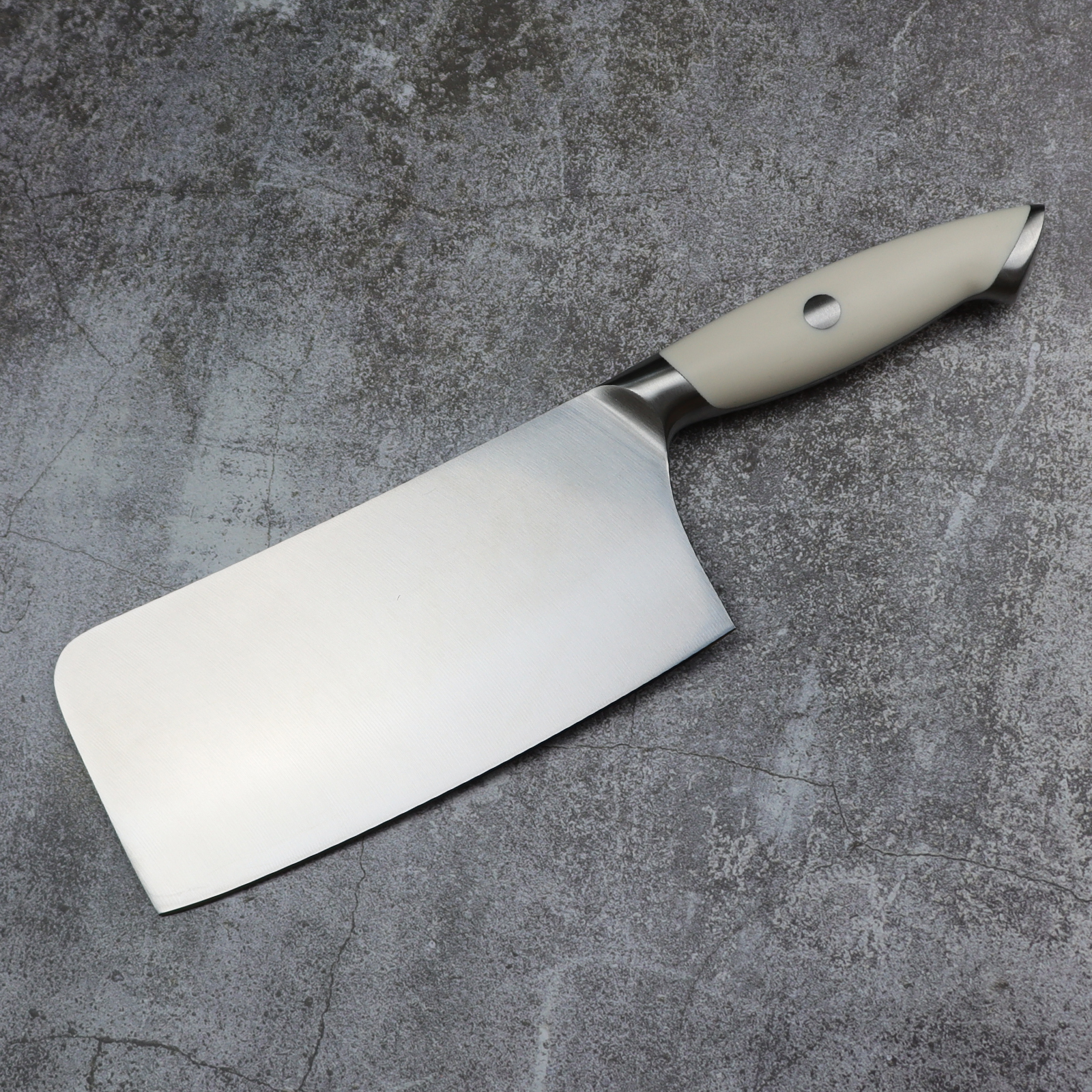 The Fzkaly cleaver butcher knife is also a boning knife perfect for home chopping Bones. It is a budget pick, decent price, sharp, hand-forged knife.
The 3mm thick blade and spine make it easily cut. What's more, it is a versatile knife, not only great for bones but also good for vegetable cutting. You'll love the handle of this knife, its unique white color with a mosaic pin adds aesthetics. It is full-tang non-slip and offers a good hand feeling.
Pros:
7Cr17Mov high carbon stainless steel
3mm heavy-duty blade designed for chopping bones
Premium quality ABS polymer handle
Full tang construction for maximum robustness & comfort
Final Words
Better knife, better life. Hope you can more enjoy your cooking time with a right cleaver knife. Want to know more about cleaver knife, check our: Anything you want to know about meat cleaver knife.
Comment