The only knife you need to buy. The core steel is expertly crafted from Japan-imported VG10 Damascus Steel which professional chefs rave about. hammered by vacuum heat treatment and gone through the fold and forge process, Fzkaly professional utility knife is incredibly razor-sharp. Hand sharpened 12°-15° bevel edge for easy slicing. This 5" Japanese Damascus utility knife is built to last, with no sharpening for a few years.
Effortless cut. 60±2HRC, this professional Japanese Damascus utility knife can be used for a variety of tasks, from cutting vegetables to slicing bread and much more. Meanwhile, you can enjoy easy meal prep and paper-thin cuts. It makes clean, smooth, buttery cuts.
Perfectly balanced performance. Optimized weight and good balance make the utility knife fit nicely in the hand, making users cut faster and more efficiently without physical fatigue. The Japanese utility knife is easy to use due to its slender blade, lightweight, and sharp edge. A smart choice for home cooks and professional chefs.
Artistic handle. The handle of this VG10 knife combines various elements, a unique 3D-designed ebony wood handle, green resin, a red G10 ring, plus an elegant copper flower nail. It looks attractive and natural, like a work of art in your kitchen. The unique handle shape is ergonomically designed to provide comfort and perfect grip for the best agility in cutting all kinds of food. The hand-polished wood handle feels smooth and comfortable.
Selection of high-end gifts. Definitely, a Japanese Damascus utility knife we don't want to put down. This 5-inch Japanese Damascus utility knife comes in a gift box and is an attractive and practical present for people you cared about. Just imagine the faces of them receiving such a practical gift, it must be happy and happy.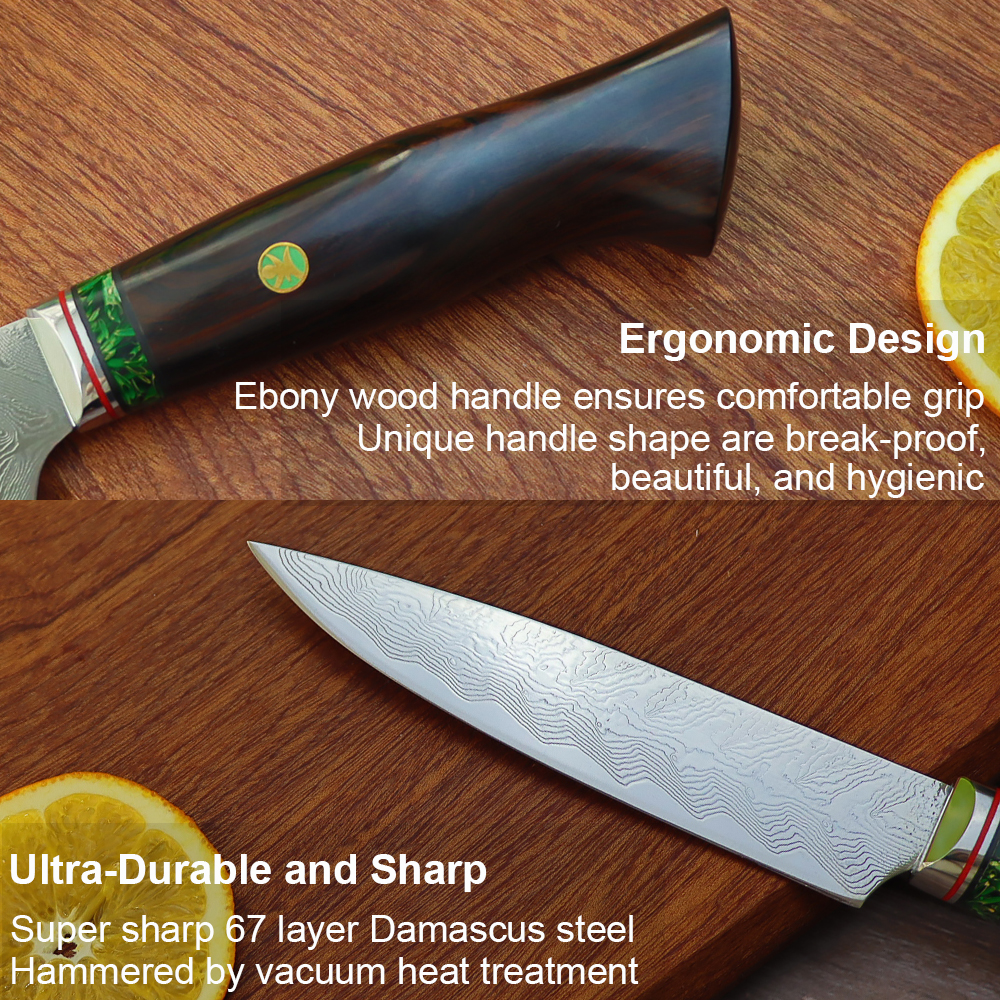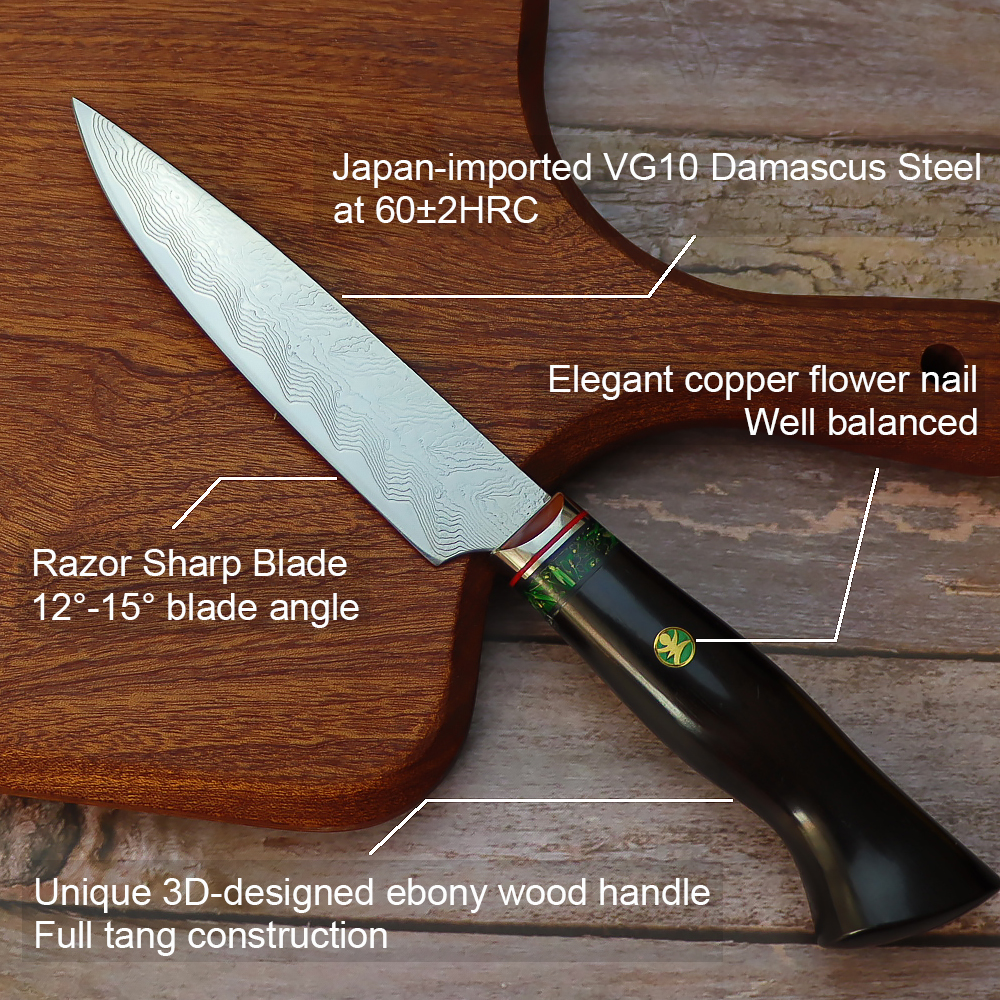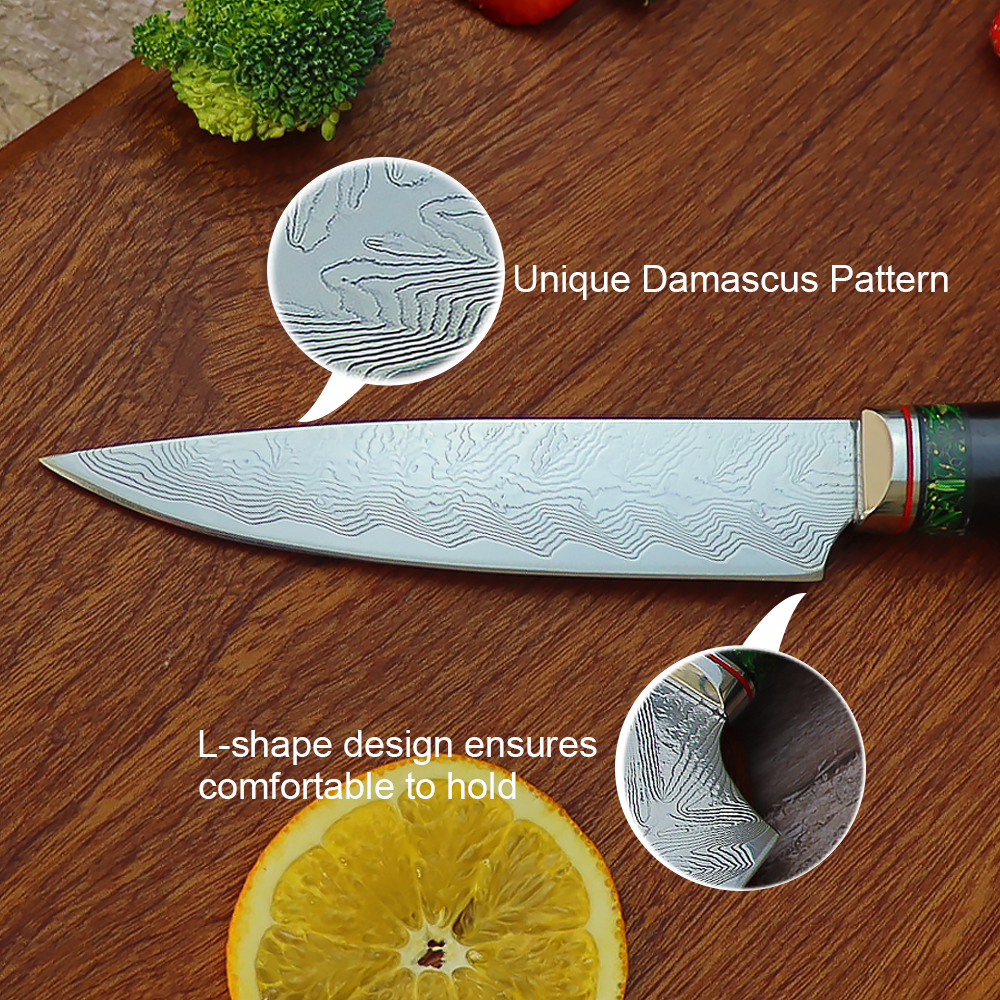 What's in the box
5" Utility Knife x 1
Gift Box x 1
Measurements
Blade Length: 5 in
Handle Length: 5 in
Total Length: 10 in
Blade Thickness: 2mm(0.078 in)
Blade width: 0.98 in
Net weight: 0.25 lbs